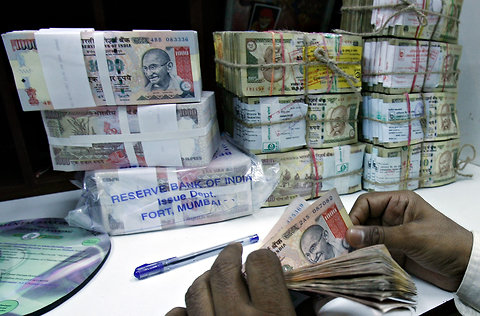 Indranil Mukherjee/Agence France-Presse — Getty ImagesA bank employee counting currency notes in Mumbai, Maharashtra in this Feb. 27, 2007 file photo.
The Indian gross domestic product report released Friday for the April-June quarter showed that the economy was doing only marginally better than in the previous quarter. Growth was up 5.5 percent during the quarter from a year earlier, compared with 5.3 percent in the period ended in March, which was the weakest growth in nine years.
Analysts said high interest rates have dented investment, while the investor outlook continued to remain bleak. "High inflation, wide trade and current account deficits, bloated subsidies and a gaping fiscal deficit have all taken a toll on the real economy, while the rupee has plunged 25 percent since July 2011," said Jyoti Narasimhan, senior principal economist at IHS Global Insight. "The investment environment remains toxic because of corruption scandals, policy inertia and fierce political opposition have stifled progress on reform."
The report showed that the manufacturing output in the April-June quarter rose only 0.2 percent from a year prior, dashing prospects for growth. The growth in agriculture, forestry and fishing was 2.9 percent, while mining and quarrying remained nearly flat at 0.1 percent. The sectors that showed significant growth in the quarter were construction with 10.9 percent growth, financing, insurance, real estate and business services at 10.8 percent and community, social and personal services, which registered a 7.9 percent growth.
Forecasts for the coming year are less than rosy. "Weak growth is likely to remain a strong overhang on the corporate sector, and in the near-term raises chances of a sovereign downgrade, particularly in the light of the stalemate on the policy front," said Tirthankar Patnaik, the director of institutional research at Religare Capital Markets.
A rebound of the economy is expected to be a gradual process. "The pickup in growth was encouraging, but growth still suffers due to external headwinds and supply constraints," said Leif Lybecker Eskesen, chief economist for India and Asean at HSBC Global Research. "We expect a gradual recovery from here on the back of structural reform progress and global economic stabilization, although there is a risk that it could prove more protracted."
All eyes are now on the Reserve Bank of India, the central bank, which meets Sept. 17 to review monetary policy. While there are expectations that a low growth rate would cause the R.B.I. to cut interest rates, just last week the central bank said that lower interest rates alone were not enough to jump-start the investment cycle. "Despite ever-worsening growth data, IHS Global Insight, expects the R.B.I. to wait until October to resume its rate cuts," said Ms. Narasimhan. "We expect only a shallow recovery in manufacturing and investment, and only a mild upturn is expected by year-end."
Article source: http://india.blogs.nytimes.com/2012/08/31/indias-economy-continues-to-be-weak/?partner=rss&emc=rss