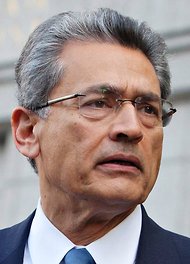 Andrew Kelly/ReutersFormer Goldman Sachs board member Rajat Gupta leaves Manhattan Federal Court in early June.
As head of the elite consulting firm McKinsey Company, Rajat K. Gupta associated with corporate chieftains and heads of state around the world.
Today, his fate rests in the hands of a retired librarian, a freelance beauty consultant and 10 other New Yorkers.
A jury of eight women and four men concluded their first day of deliberations on Thursday without a verdict in the insider trading trial of Mr. Gupta.
The government has charged Mr. Gupta, 63, a former director of Goldman Sachs and Procter Gamble, with leaking boardroom secrets about those two companies to Raj Rajaratnam, the former head of the Galleon Group hedge fund.
Judge Jed S. Rakoff, the judge presiding over the trial in Federal District Court in Manhattan, briskly read his 24-page charging document to the jury on Thursday morning. Mr. Gupta sat at the defense table, flanked by his legal team, reading along. "Your duty is to decide the fact issues in the case and arrive, if you can, at a verdict," Judge Rakoff said. "You are to perform your final duty in an attitude of complete fairness and impartiality."
Two of the male jurors wore suits and ties for the first time during the monthlong trial, leading the lawyers and courtroom spectators to dissect the meaning of their wardrobe. A television producer speculated that they wanted to be interviewed in the event they reached a verdict. Another observer suggested that the suits and ties were meant to convey the message that they, and not the lawyers, were now in charge of the case.
Before the jury started their discussions, Judge Rakoff complimented one of the spiffed-up jurors on his bold pink tie. That juror — Juror No. 11, an executive at a nonprofit in Westchester County — was selected by the panel as its foreman.
At noon, an hour before the jury's lunch break, one of the jurors received permission to go outside to smoke a cigarette.
There are six counts in the government's indictment. One count is a conspiracy charge, accusing Mr. Gupta of engaging in an insider trading scheme with Mr. Rajaratnam, who last year was convicted by a jury after 12 days of deliberations.
The five other counts are discrete tips that Mr. Gupta is said to have given Mr. Rajaratnam about confidential corporate information — four relating to Goldman and one to P. G. Among them is the government's accusation that on Sept. 23, 2008, Mr. Gupta told Mr. Rajaratnam about Warren E. Buffett's $5 billion investment in Goldman ahead of a public announcement.
"You must consider each individual charge separately and evaluate each on the proof or lack of proof that relates to that charge," Judge Rakoff said.
Beyond the smoking-break request, the jury sent two substantive notes to the judge on Thursday. It asked for copies of the testimony of Michael Cardillo, a former trader at Galleon who has pleaded guilty and is cooperating with prosecutors. Mr. Cardillo testified that in January 2009 he shorted Procter Gamble stock, or bet that its shares would decline, after he heard that "Raj's guy on the P. G. board" said that the company was going to reduce its sales forecast. The second request asked for clarification on the legal definition of conspiracy.
During summations on Wednesday, Richard Tarlowe, a federal prosecutor, described the evidence against Mr. Gupta as "overwhelming."
In his closing statement, Gary P. Naftalis, a lawyer for Mr. Gupta, decried the government's case as speculative and lacking hard, direct evidence. He also appealed to the jury's humanity, reminding them of the weighty task they had before them.
"In a few weeks, this case will be a dim memory to you," Mr. Naftalis said to the jurors. "For Rajat Gupta, this is the only case. Whatever you do here will make whatever future he has left."
Article source: http://dealbook.nytimes.com/2012/06/14/jurors-begin-deliberations-in-insider-trading-trial/?partner=rss&emc=rss