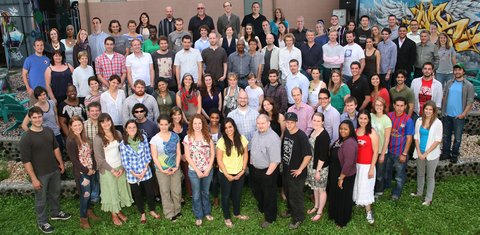 Courtesy of TerraCycle This is not a company retreat.
The challenges of a waste-recycling business.
Aside from eating rabbit, I think there's only one thing I'm allergic to: company retreats.
Even in elementary school, I found the idea of team-building games — from trust falls to three-legged races — nauseating. But in a professional environment with a group of adults? I cannot understand why a company would spend money and people's time at such retreats. Of course, there is an entire industry built around these events, which suggests a question: Do they actually work?
If you look at the Web sites of the companies that manage retreats, they say the goal is to build communication and cooperation and to improve morale and have fun. These sources go on to highlight that a company retreat wouldn't be complete without "considerations" like a spa evening or a golf outing. The goal, after spending a considerable amount of money and time, is to "stimulate future productivity by helping your employees reconnect and relax."
Now, I consider myself something of a new age chief executive. Our company prides itself on transparency and accessibility, and we even have a culture of Nerf guns complete with our own chief Nerf gun officer (the C.N.O.). But we are a business, and we come to work to work, not to play or relax. While I am in the business of giving frequent and direct feedback, I am not in the business of giving hugs or focusing on things that don't drive fundamental and objective productivity. That is not to say that I don't want all of my colleagues to love their jobs and enjoy their time at the office. Work should be fun, rewarding and enjoyable. It's what we spend most of our waking lives doing.
I think that if an organization needs a company retreat to rebuild morale or excitement, there is something fundamentally wrong with the organization. The leadership of an organization should always consider the general mood of the staff and try to make real-time changes to improve it. But only to a point. All organizations have grumblers and naysayers, and no matter how many extra hours you give for lunch or how many company retreats you run, that's not going to change.
Companies also have retreats to rethink the big picture — the vision, mission and path of your business over the coming years. And this has come up a number of times at TerraCycle, as has the idea of running the very retreats I have such distaste for. In the past, as a compromise, I have hosted full-day off-sites at my house for the entire business to discuss these kinds of issues. The cost was always high — primarily the opportunity cost of the entire staff taking a day away from work — and the results were generally modest. People liked the off-sites but didn't learn much.
When I recently was asked about doing another, we decided that instead of a company off-site we would reduce the meeting to just the senior team and run a one-hour session every month to discuss big-picture issues. The results were significantly better. We came up with a guiding document that crystalized our key challenges for the following year, and we were able to communicate that to the team at large.
In the end I have realized that instead of having lofty, expensive and infrequent company off-sites, it may be better to split the goals into bite-sized chunks. To get staff members interacting with folks they usually wouldn't spend time with, we throw bi-monthly company parties at someone's house (cost is usually a few hundred bucks for food and drinks). To keep rethinking the big picture, we run those one-hour monthly meetings with the senior staff and then bring changes to the whole staff when appropriate.
The closest thing we have to an off-site is our annual international week. During this time (usually a week in May) about 30 or so international staff members from our offices outside the United States come to spend the week in Trenton to share ideas and insights, meet their fellow teammates and party. We started holding international weeks three years ago, and it has been a major success.
Since it is a rather big expense — probably more than $35,000 in travel and hotel costs plus the hard-to-quantify expense of having basically the entire company not focused on its work — we take the scheduling of this event seriously. Over the last three years, we have worked harder and harder to make sure the week is well organized and creates as much value as possible. The goal is to work hard on opportunities and challenges and then party together to get to know the person you usually speak to only on the phone.
A critic might ask, isn't international week a company retreat? And my answer would be no. The goal of this week is to work very hard to create concrete results for the business. Our work days are extended from 9 a.m. to 5 p.m. to 8 a.m. to 6 p.m. And the meetings are never esoteric; they are highly focused on specific issues, for example: "using SAP in your local country" or "how to promote a new waste collection program."
Most important, there are no trust falls, no ropes courses, and no golf. It's an exhausting week of hard work with a focus on improving the business. And the response from our team has been overwhelmingly positive.
Tom Szaky is the chief executive of TerraCycle, which is based in Trenton.
Article source: http://boss.blogs.nytimes.com/2012/09/21/my-problem-with-company-retreats/?partner=rss&emc=rss