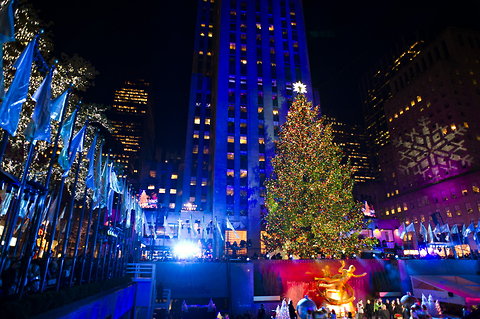 Charles Sykes/Invision, via Associated PressThe giant tree at Rockefeller Center in New York.
In our household, the fake versus live Christmas tree debate was long ago resolved in my favor. I prefer live trees because that's what I grew up with, and I think they're ultimately better for the environment. And they just plain smell nice.
But this year, I spent the most I've ever spent on a fragrant evergreen: $100. (I didn't mention this to my husband. I can hope that he'll be so busy with last-minute shopping that he won't read this post.) The average consumer spent about $35 for a live Christmas tree last year, according to the National Christmas Tree Association.
How can I justify spending so much on something that would be turned into mulch in just a few weeks? It was a challenging year for my family on several fronts, and I felt like taking some time to celebrate.
My daughters have long clamored for a "huge, giant" tree to fill our living room, which has a vaulted ceiling. (They also clamor for a giant, inflatable snow globe for our lawn, but I have to draw the line somewhere). We have a large collection of ornaments, many handed down from my mother, and others chosen as mementos on various family trips. So it would be nice to give them all expansive display space on a big tree.
Unfortunately, a tree that would reach the ceiling would most likely be so wide that we would have to sit in the kitchen for the entire season. But, I thought, we could at least go beyond our usual six-footer to, perhaps, a 10-foot version.
The trees available at local discount stores mostly topped out at eight feet. So we went to a seasonal lot run by a Wisconsin tree farm. My daughter made a beeline to a 12-foot version, but I deemed that excessive. Next the lot owner showed us a lovely, full tree that was nine and a half feet tall. I hesitated when I looked at the price tag. I'd never paid more than $65 before for a tree.
But then I envisioned how it would look in our front window, lighted up for passers-by to enjoy at night. Sold!
The salesman hauled it over to the amazing tree binding machine (an innovation that quickly compresses the trees branches with twine, so it's easier to get through your door) before taking my money and tying the tree to the roof of my minivan.
A bigger tree, of course, necessitated a larger stand, which cost another $25. And it turned out that the thing is so tall, we couldn't reach the top to put on the star. (My husband stood on a stepladder and used a broomstick to jam it on, but it's a bit lopsided).
But I nodded with satisfaction when our neighbor came over and admired it. "I just love a big tree," she said.
While I was rationalizing my purchase, this deflating press release arrived in my e-mail in-box: "Your Christmas tree could be adding over $100 to your electric bill!"
That sounded high to me even for a few strings of lights for my now taller-than-average tree, but I think I'll file that one in the don't-open-until-after-Christmas file anyway.
What sort of a budget do you set for a tree?
Article source: http://bucks.blogs.nytimes.com/2012/12/20/in-defense-of-the-100-christmas-tree/?partner=rss&emc=rss