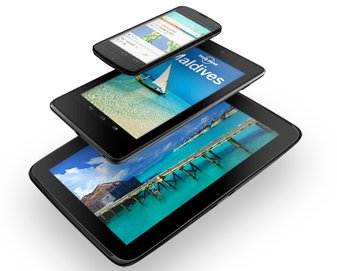 From top: the Nexus 4, Nexus 7 and Nexus 10.
With the addition of its new iPad Mini, Apple offers touch-screen devices in three sizes. Now Google is matching that by introducing a tablet that is meant to compete directly with the larger iPad.
Google on Monday unveiled the Nexus 10, a 10-inch tablet it developed with Samsung, and a new phone, the Nexus 4, that it made with LG. Google also said it would upgrade its seven-inch tablet, the Nexus 7, to include a cellular data connection.
Google's Nexus line of devices shows off Google's latest mobile software.
"We're building pretty sensational world-class products here," said Hugo Barra, director of product management for Android at Google, at a news conference in San Francisco on Monday. "You don't find anything even remotely like that out there."
Also on Monday, Microsoft held a press event in San Francisco to talk about the imminent release of Windows Phone 8, its new mobile operating system, which it announced in June.
Google, Apple, Microsoft and Amazon.com are all building devices in part to recruit customers to use their other services and buy apps, music, books and other content from them.
The Nexus 10 tablet includes a high-resolution display and the newest Android software, which has a feature that allows the tablet to be shared by setting up separate user accounts, something the iPad does not have.
Most notably, the 10-inch screen size will allow Google to go after the market that Apple created with the 9.7-inch iPad: people who are buying full-size tablets instead of laptops. The iPad has been Apple's most quickly adopted product ever, with 100 million tablets sold to date. Clearly, that market is a juicy target for Google, as well as for Amazon, which recently introduced a bigger 8.9-inch tablet.
With the Nexus 10's starting price of $400, $100 less than the cheapest iPad, Google has a good chance of selling plenty of tablets, said Jan Dawson, a research analyst with Ovum. But Google would still not pose much of a threat to Apple because it has been selling its tablets at cost, Mr. Dawson said. Google's goal is to build market share and profit from ads and content sales.
"Neither Google nor Samsung can afford to do that for long with the Nexus 10," he said. "The more they sell, the more money they lose."
The Nexus 4 phone has a few features that the last Nexus phone did not. Among them are wireless charging by setting the phone on a small charging station, faster processing, an improved screen, typing by moving a finger instead of pressing individual keys and panoramic photo-taking.
Google also had news about Google Play, its store for apps, books, music and videos, which has lagged other online stores because it has not offered as comprehensive a selection.
Its music service finally signed a deal to bring the catalog of the Warner Music Group — with Green Day, Madonna, Neil Young, the Red Hot Chili Peppers and hundreds of other acts — to its Google Play store. This means Google's millions of Android users will have an essentially complete catalog of MP3s to buy.
Google also recently signed deals with Time Inc. for magazines and 20th Century Fox for movies, filling other major holes in its offerings.
At its event, Microsoft said Windows Phone 8 would appear on new smartphones made by Samsung, Nokia and HTC starting next month. It also talked about some new features, like Data Sense, a tool that allows people to see how much data apps are using, so they can close data-guzzling apps and avoid exceeding their data plans.
Microsoft has spent hundreds of millions of dollars developing and promoting its Windows Phone operating system since releasing it two years ago. But despite some rave reviews from critics, Windows Phone 7, the previous version, has been unpopular among consumers, with only about 2.5 percent of the American market to date.
Nokia, the Finnish phone maker, has staked its future on Windows Phone. It formed a partnership with Microsoft to ship Nokia Windows phones. But sales of its Lumia handsets featuring the software have been slow.
Terry Myerson, Microsoft's corporate vice president for Windows Phone, said in an interview that he felt it was the right moment for the software, because it was getting strong support from manufacturers and carriers, and was coming out at the same time as Windows 8, Microsoft's new desktop and tablet operating system. The architecture of Windows Phone 8 has been rewritten to share the core software in Windows Phone 8, and many features will work between the operating systems, he said.
---
This post has been revised to reflect the following correction:
Correction: October 29, 2012
An earlier version of this post misidentified the company that Google worked with to create the Nexus 10. It was Samsung, not LG. Thanks to commenter Joie2 for spotting the error.
Article source: http://bits.blogs.nytimes.com/2012/10/29/like-apple-googles-android-devices-now-come-in-three-sizes/?partner=rss&emc=rss