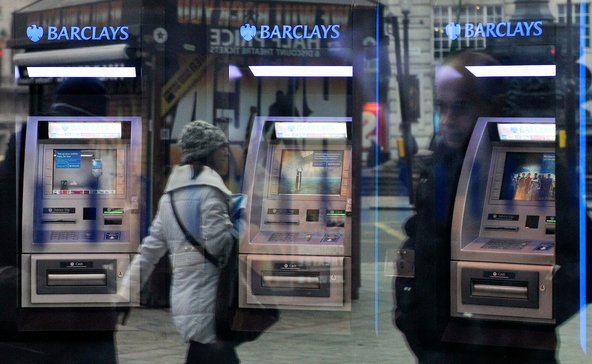 Andy Rain/European Pressphoto AgencyA Barclays branch in London.
8:01 a.m. | Updated
LONDON – Barclays said on Tuesday that it had set aside an additional £1 billion ($1.6 billion) to cover legal costs related to its inappropriate selling of complex financial products to customers.
The announcement came as British politicians grilled senior Barclays executives, including the firm's new chief Antony P. Jenkins, about the culture and past failures at the British bank.
Mr. Jenkins and the firm's chairman, David Walker, told politicians on Tuesday that they were prioritizing ethics and reducing risky trading activity, adding that they would take responsibility if future problems were discovered at the bank.
The Barclays' chief, who agreed to forgo his bonus in response to the series of scandals that have hit Barclays in recent years, said he would resign if another scandal was uncovered while he was leading the bank.
"The chief executive is responsible for what happens during their tenure and when incidents happen the price needs to be paid and I believe were I to find myself in that position I would do the right thing," Mr. Jenkins said on Tuesday.
When politicians asked Mr. Jenkins if he was eradicating the culture that he inherited from his predecessor Robert E. Diamond Jr., Barclays' new chief said he was indeed "shredding that legacy" of sometimes being "too self-centered and too aggressive."
Barclays was the first to reach a settlement with American and British authorities last year related to the manipulation of the London interbank offered rate, or Libor. The benchmark rate underpins trillions of dollars worth of financial products worldwide, including complex derivatives and mortgages.
In its latest move to address past indiscretions, Barclays said on Tuesday it had set aside an additional £600 million for the inappropriate selling of loan insurance to consumers. In total, the bank has now made provisions of £2.6 billion to compensate affected customers, of which it had returned £1.6 billion by the end of last year, according to a statement from Barclays.
Other larger British banks, including HSBC, Royal Bank of Scotland and the Lloyds Banking Group, have all been forced to repay customers for inappropriately selling them insurance. Many customers were unaware they had been sold the financial products when they took out mortgages and loans, while others have struggled to make claims on the policies.
Barclays also said on Tuesday that it had set aside an additional £400 million for legal costs related to the sale of certain interest-rate hedging products to small businesses in Britain. Barclays now has made provisions totaling £850 million to compensate customers of these products, of which only £36 million had been paid out by the end of 2012.
Barclays is not the only British bank to face new legal problems because of the hedging products.
Last week, the Financial Services Authority, the country's financial regulator, demanded that local financial institutions review all sales of such products after authorities found that more than 90 percent of a sample group of the instruments were sold improperly.
Barclays has been trying to rebuild its reputation since several of its senior executives, including Mr. Diamond, resigned in the wake of the Libor scandal last year.
The bank is to announce a major restructuring of its business units when it reports earnings on Feb. 12; steps could include the elimination of around 2,000 jobs in the firm's investment banking division.
On Sunday, the bank's chief financial officer, Christopher G. Lucas, and its general counsel, Mark Harding, said they would resign. Mr. Lucas is one of four current and former executives who are under investigation in connection with how Barclays tapped Qatari investors for new capital during the financial crisis.
The British bank said on Tuesday that it had appointed Diane de Saint Victor, currently general counsel of the Swiss engineering company ABB, as a new nonexecutive director.
Some of the British politicians, however, remained skeptical that Barclays would be able to overcome the series of lawbreaking that has been announced in recent months.
"It doesn't really matter what the scandal is, Barclays seems to have a finger in it," said Andrew Tyrie, a British lawmaker who is overseeing the parliamentary commission on banking standards, which is investigating misconduct in the country's financial services sector.
Article source: http://dealbook.nytimes.com/2013/02/05/barclays-sets-aside-extra-1-6-billion-for-legal-costs/?partner=rss&emc=rss