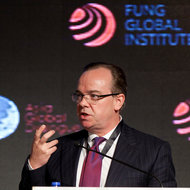 Jerome Favre/Bloomberg News"I very much regret HSBC's past failures and I apologize for them," the British bank's chief, Stuart Gulliver, said.
HONG KONG — Profit at HSBC Holdings dropped nearly 9 percent in the first half of the year, as the big bank deals with the fallout from a money-laundering investigation and a settlement over selling inappropriate financial products.
On Monday, HSBC said that it had set aside $700 million to cover the potential fines, settlements and other expenses related to a money-laundering inquiry in the United States. The bank made a further $1.3 billion provision toward a regulatory settlement related to payment protection plans for credit card loans, home mortgages and other consumer borrowings.
The legal woes weighed on the company's financial results.
HSBC announced net income of $8.4 billion in the first half the year, down from $9.2 billion in the previous year. HSBC's operating income rose slightly, to $43.6 billion, over the same period.
"I very much regret HSBC's past failures and I apologize for them. Our controls should have been stronger and more effective," the British bank's chief executive, Stuart Gulliver, said Monday. '"We are committed to doing whatever it takes to make sure the organization is able to detect and prevent unacceptable behavior."
Even so, HSBC's final legal bills could rise.
On Monday, Mr. Gulliver indicated there was "tremendous uncertainty" around the money-laundering case, and the "number could be significantly higher." He called the $700 million provision "a best estimate based on the facts that we currently know."
Earlier this year, the United States Senate Permanent Subcommittee on Investigations issued a report accusing HSBC of serving as a conduit for money flowing illegally into the United States from Mexican drug traffickers and Middle Eastern banks with ties to terrorists. An outside audit identified nearly 25,000 transactions related to Iran involving more than $19 billion, which were handled by HSBC's American unit but were not properly disclosed to American regulators
HSBC has also been ensnared by the rate-manipulation inquiry, along with other big global bank. The multiyear investigation centers on benchmark rates, including the London interbank offered rate, Libor, and the Euro interbank offered rate, Euribor.
Last month, Barclays paid $450 million to authorities for submitting false rates. Global banks may have to pay more than a combined $20 billion in fines and penalties related the investigation, according to estimates from analysts at Morgan Stanley.
HSBC said that it had made no provision for potential fines or regulatory settlements related to the global investigation.
"It's far too soon to make any estimate on Libor or Euribor,'' Mr. Gulliver said. ''We are providing information to various regulators simply because we are a panel bank, and therefore we don't have any information that gives us any ability to make a provision for future costs that may result from anything do with Euribor or Libor.'"
Despite the continued legal problems, HSBC's underlying businesses are showing signs of strength. During the first three months through June 30, the bank reported that pretax profit rose 28.1 percent to $8.42 billion compared with same period a year earlier.
According to HSBC, Asia continued to be an ''absolute powerhouse'' for the bank's growth, accounting for half of pretax profit in the second quarter. Pretax earnings from Hong Kong and the rest of Asia rose 16 percent in the second quarter to $4.2 billion.
Since taking over as the bank's chief executive in January 2011, Mr. Gulliver has focused on cutting costs, selling less-profitable businesses and focusing new investment on faster-growing economies of Asia.
Over that time, HSBC announced more than 36 deals to reduce or dispose of its stakes in a wide range of businesses around the world. Last week, the bank struck an agreement to sell its 44 percent share in Global Payments Asia-Pacific, a card processing joint venture, for $242 million.
In August 2011, the bank announced a plan to slash 30,000 jobs by 2013, part of an effort to cut costs globally by $2.5 billion to $3.5 billion. On Monday, HSBC said the number of full time staff globally had fallen to 272,000 people in the second quarter, down 8 percent from 296,000 people a year earlier.
Article source: http://dealbook.nytimes.com/2012/07/30/hsbc-sets-aside-2-billion-for-legal-woes-as-profit-falls/?partner=rss&emc=rss