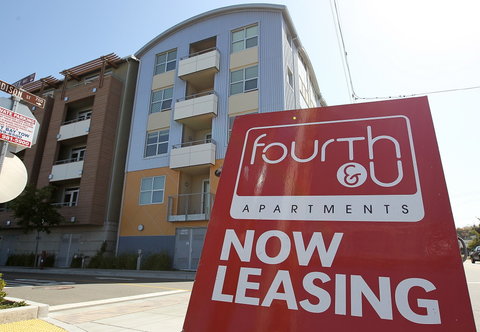 Agence France-Presse — Getty Images Apartments for rent in Berkeley, California.
A new Web service called Cozy aims to simplify the relationship between those who own apartments and homes for rent, and those who pay rent to live in them.
The start-up has been in a limited beta testing for the last six months, and is now being made available to the public. About 3,000 landlords were invited to participate in the test, said Gino Zahnd, Cozy's chief executive and co-founder, and the site currently has participants in more than 300 markets in 46 states.
Cozy, with financial backers like Google Ventures, seeks to benefit both sides of the rental relationship. It courts renters by allowing them to create simple, electronic tenant profiles, which give them more control over who sees their sensitive personal information when applying for a lease. It also offers landlords a way to screen tenants more easily, and helps them collect rental payments.
"We're trying to improve the tenant-landlord relationship," said Mr. Zahnd.
The Cozy system allows landlords to accept applications and screen potential tenants online. And it allows tenants to pay their rent electronically, instead of writing a check — which most renters still do, said Mr. Zahnd.
The system also allows multiple roommates to pool payments, which it then combines into a single payment that is made to the landlord. That's generally attractive to landlords, Mr. Zahnd said, because of the way most leases are structured.
Typically, when applicants seek an apartment, they fill out a multiple-page paper form with all sorts of personal and financial information and hand it over to a stranger, he said. In competitive markets, like San Francisco or New York, apartment seekers are probably filling out multiple applications. If you aren't selected by the landlord for a specific apartment, you have no idea what the apartment owner does with your (rejected) form — does it just go in the trash? Or are other, unauthorized people looking at your information? "It doesn't feel good," he said.
Cozy allows tenants to create a re-useable online application — complete with employment information, rental history and references. If an apartment seeker finds an apartment — say, on Craigslist — and the owner uses Cozy, the prospect can apply with a click of the mouse.
If the renter wants to apply for an apartment for a non-Cozy landlord, he or she can issue a "guest pass" that includes a link to the tenant's profile. Prospective landlords can access the information and the applicant can see when they view the profile, and how often.
Then, once the potential tenant finds an apartment and their application is accepted, they can revoke access to the profile granted to other landlords.
The beta version of the Cozy site was free; now, it charges landlords $9 per month, per rental unit (generally, a tax-deductible cost for landlords, Mr. Zahnd notes). The site is initially aiming at smaller landlords, who are most in need of services to simplify their operations, Mr. Zahnd said. But Cozy also has had inquiries from large investment funds that have bought foreclosed properties and are looking for efficient ways to rent them, he said.
The service is free for tenants.
To use the system, both tenants and landlords must enter their banking information, including routing numbers and account numbers. (Mr. Zahnd says Cozy uses bank-level security to protect users financial information). Then, once each month on a specified date, the system withdraws funds from the tenant accounts and makes a payment to the landlord.
In order for the payments system to work, both landlord and tenant must be registered with Cozy.
Take a look at Cozy and tell us what you think. Does such a service make sense for apartment hunters? Is the payment system attractive, or would you rather use your own bank's electronic bill payment option?
Article source: http://bucks.blogs.nytimes.com/2013/06/10/aiming-to-simplify-the-landlord-tenant-relationship/?partner=rss&emc=rss