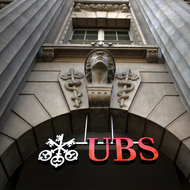 Fabrice Coffrini/Agence France-Presse — Getty ImagesUBS headquarters in Zurich.
LONDON – The Swiss bank UBS announced plans on Tuesday to eliminate up to 10,000 jobs and cut costs in a major overhaul that dragged down earnings.
In the latest quarter, UBS posted a loss of 2.2 billion Swiss francs ($2.3 billion) for the three months ended Sept. 30, citing restructuring costs and charges connected to its own debt. The bank recorded a net profit of 1 billion francs in the period a year earlier.
Like many European banks, UBS is dealing with the effects of the sovereign debt crisis and the sluggish European economy. With profits eroding, UBS is moving to reduce its riskier operations and focus on its profitable wealth management group.
Related Links
The investment bank will bear the brunt of the cuts. Over the next two years, UBS said it would reduce its work force by as much as 16 percent, bringing the total employees worldwide to 54,000 employees. Last year, the bank announced a separate batch of 3,500 job cuts.
"This decision has been a difficult one," the bank's chief executive, Sergio P. Ermotti, said in a statement. "Some reductions will result from natural attrition, and we will take whatever measures we can to mitigate the overall effect."
The layoffs are part of a broader plan to cut costs at UBS. The latest moves will help reduce expenses by 3.4 billions Swiss francs by 2015. Added to the bank's previous efforts, UBS expects annual costs savings of 5.4 billion francs over that period.
The bank, which is based in Zurich, said the cost savings would come primarily from its diminished investment banking operations, where the bank planned to eliminate most of its fixed-income businesses because they had become unprofitable. The smaller investment banking unit would focus on advisory services, research, equities, foreign exchange and precious metals, UBS said in a statement.
Andrea Orcel, who joined UBS last year from Bank of America, will lead the smaller investment banking division, while Carsten Kengeter, the current co-head of the unit, will step down from the executive board to oversee the sale of the bank's unprofitable investment banking businesses and financial positions.
By shrinking the investment bank, UBS should help improve its capital position. The changes will bring the firm's so-called risk-weighted assets to below 200 billion francs by 2017, compared with the current level of more than 250 billion francs, reducing the bank's exposure to riskier financial assets. Risk-weighted assets in the investment banking division are to decline 23 percent, to around 70 billion francs.
UBS said its common equity Tier 1 ratio, a measure of a firm's ability to weather financial shocks, stood at 9.3 percent under the so-called Basel III rules. The bank plans to raise that figure to 11.5 percent by next year.
"We are now able to take further decisive action to transform the firm and position it for future success," Mr. Ermotti said.
But the restructuring efforts have weighed heavily on the bank's results. In the latest quarter, UBS said it had incurred a loss of 3.1 billion francs related to its investment banking business, as well as a loss of 863 million francs connected to charges on the value of its debt. The firm expects to book a charge of 500 million francs in the fourth quarter, which would lead to a net loss for that period.
The bank faces other headwinds.
In the latest quarter, pretax profit for its wealth management unit fell 32 percent, to 600 million francs, compared with the period a year earlier. The loss in its investment banking unit soared to 2.9 billion francs from a loss of 650 million francs in the third quarter of 2011, while pretax profit in its retail and corporate unit fell 40 percent, to 409 million francs.
UBS warned that clients might remain cautious in the face of Europe's debt crisis and the volatility in global financial markets.
"Failure to make progress on these key issues would make further improvements in prevailing market conditions unlikely and would thus generate headwinds for revenue growth, net interest margins and net new money," UBS said.
Article source: http://dealbook.nytimes.com/2012/10/30/ubs-to-cut-10000-jobs-in-major-overhaul/?partner=rss&emc=rss