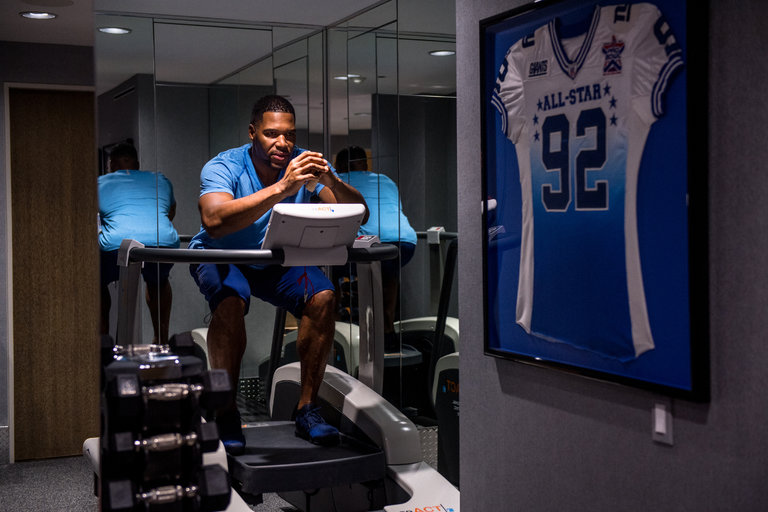 Michael Strahan, the Hall of Fame defensive end who played 15 seasons with the New York Giants before retiring in 2008 after helping the team win the Super Bowl, probably changed a lot of Sundays for a lot of people. These days, however, Sundays tend to change him. Now a sought-after television host, Mr. Strahan, 45, who is currently appearing on both ABC's "Good Morning America" and "The $100,000 Pyramid," has a chance to catch his breath on the weekends. That will soon change, however, when he returns to his third gig, "Fox N.F.L. Sunday," in September. Mr. Strahan lives in a townhouse on the Upper West Side.
NOSTALGIA I miss getting ready for the game on Sundays — driving to a stadium, seeing the people with jerseys on, the flags waving. Something inside of you, physically, you felt perfect. The injuries, and the stiffness and soreness, were gone. It is a focus that I learned from football, which I think in turn helps me now in everything I do. But to have a Sunday where I don't have to turn on that focus on is awesome. You almost realize that there's a life out there that you never had a chance to live when you were an athlete, and now I get a chance to live it.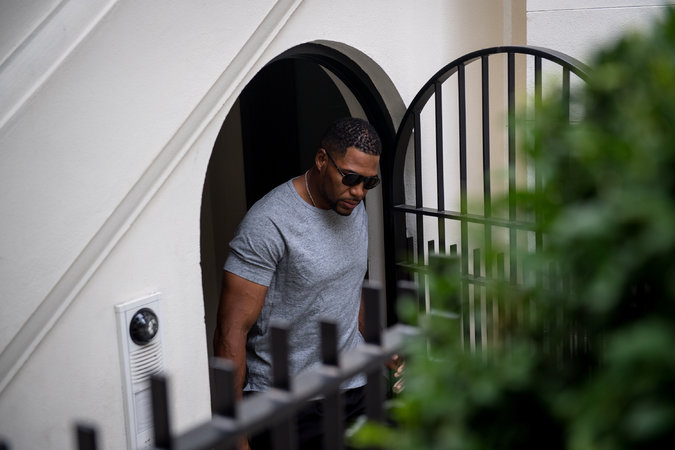 EASY If I sleep in till 8:30 or 9, I'm lucky. My alarm is usually set to "Lovely Day." I shower, and as I get dressed, it's always music. Something inspiring, something energetic. Sunday songs are laid back. Like Lionel Richie, "Easy like Sunday morning."
HOMEWORK I'll watch the news, then George Stephanopoulos comes on at 10. The only way to be successful here is to be informed. Because if not, you're going to be scared to death when that camera light hits you and you don't really know what you're talking about.
PROTEIN AND GRAINS I have scrambled egg whites with spinach and chicken-apple sausage, with a slice of Ezekiel toast with peanut butter and jam. I have a little backyard, open the doors, sit out there and have breakfast or just let the sunlight and the warmth come in.
Advertisement
Continue reading the main story
BODY WORK Sometimes I work out so much I think, "When's the last time I took a break?" Sundays are the one day that I allow myself to go, "You know, if I don't work out, it's not a big deal." I have a gym in my house, too, in case I can't make it to Equinox.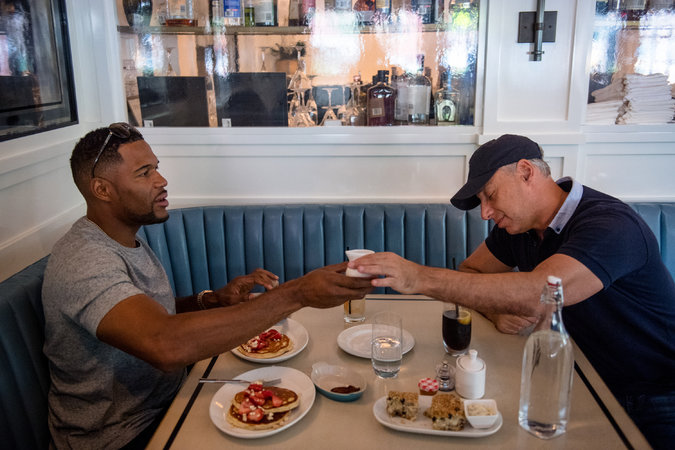 PUPPY PLAY DATE I walk Enzo, my boy. He is a miniature golden doodle, 12 months. He has, like, a Harvard education. He's been learning to clean up, pick up his toys. He walks right next to you. You stop and he stops. He sits, he waits. We want to be able to take him to hospitals, as a service dog, so that's why he's being trained like that. It's important. He's actually the half brother to Mario Batali's dog, Willie. So we've had play dates.
Continue reading the main story
Article source: https://www.nytimes.com/2017/08/18/nyregion/how-michael-strahan-television-host-spends-his-sundays.html?partner=rss&emc=rss