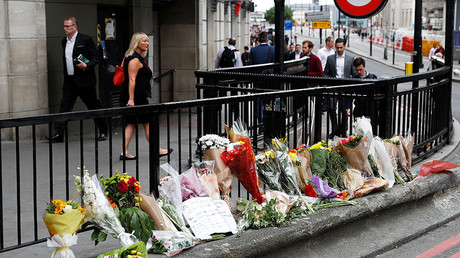 UK stocks are trading flat to negative with the FTSE 100 down slightly in early Monday trading. The index tends to benefit from a weaker currency, which boosts foreign currency denominated profits.
On Saturday, British capital faced another terrorist attack, as pedestrians were mowed down by a van on London Bridge, followed by a knife attack in nearby Borough Market.
As a result, seven people were killed and 48 injured. The attackers were shot dead by the police within eight minutes. Islamic State claimed responsibility.
Just days before the 8 June general election and was the third terrorist incident in the UK in less than three months.
According to some polls, there's a risk of a hung parliament, when no single political party or bloc has an absolute majority of seats.
Last week the rumors dragged the British currency to its lowest against the dollar since mid-April.
READ MORE: ISIS claims responsibility for London Bridge attack
"As we move closer to the election the pound is expected to trade in a choppy manner as investors will be reacting to last-minute exit polls with the current range of 1.2800 to 1.2900 capping any short-term price action," said Konstantinos Anthis of the ADS Securities research team, as quoted by MarketWatch.
Analysts say that tragic events and the flakiness of the polls will lead to volatility in Sterling this week.
"With fluctuations of this magnitude, Thursday's outcome is turning out to have all the predictability of a coin toss, and as such, it isn't too surprising to see this being reflected in recent movements in the pound," said Michael Hewson, chief market analyst at CMC Markets UK.
Article source: https://www.rt.com/business/390920-pound-falls-london-attacs/?utm_source=rss&utm_medium=rss&utm_campaign=RSS