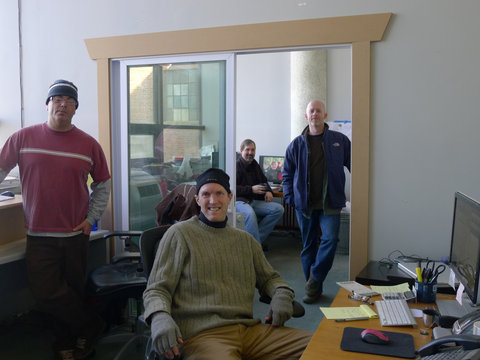 Courtesy of Paul Downs Cabinetmakers.The Paul Downs sales and design team (that's Paul in front).
The struggles of a business trying to survive.
My New Year's resolution a year ago included a vow to do a better job of recording statistics on a wide variety of performance metrics. As it turned out, 2011 was the best year I've had in my 26 years of business life. I actually ended up with what seems like a reasonable amount of money in my pocket.
Looking back, I think I learned a lot by focusing on the statistical aspects of our operations, and I'd like to share some details with you. I'm going to do this in five installments, starting with sales, then production, then material and overhead costs, then labor costs and finally management pay and profits. If you stick with it, you'll find out how much money I made in 2011.
Why Did Our Sales Go Up?
We use three ways to tally our sales for a year. I like to count the value of new orders received. QuickBooks prefers to sum the value of tables we shipped. And my accountant tells me that, for tax purposes, what matters is the amount of cash that arrived during the year. By any of these measures, 2011 was considerably better than 2010.
Let's start with the value of new orders. This is simply the sum of the dollar amount of new jobs booked during the year. It does not reflect what happens on the shop floor, just the efforts of the sales people. In 2011 we sold 119 jobs worth a total of $2,155,193. In 2010 we sold 105 jobs worth $1,549,488. By this measure, sales increased 39 percent.
QuickBooks tracks the value of stuff that actually goes out the door. The total value of items shipped in 2011 was $2,005,361. This compares with $1,532,328 in 2010, an increase of 30.9 percent. That is a smaller increase than the rise in new contracts, mostly because of a bunch of jobs that came in at the end of December but won't be built until 2012.
Looking at our cash situation, we find more good news. We received payments totaling $2,152,589. This includes deposits for new work and payments for finished work, and it compares with $1,580,759 in 2010, a 36.2 percent increase. Our expenditures totaled $1,955,532, leaving us $197,057 ahead of where we started. Out of that gain I paid $79,128 in bonuses, leaving me with a net gain of $117,928. In 2010 we ended up $90,538 ahead of our balance at the beginning of the year, meaning that our cash tally increased by 30.25 percent.
Let's look at my available working capital over the last two years. At the beginning of 2010, I had $16,239 in the bank, the equivalent of three days of working capital. At the end of 2011, even after paying the bonuses, I had $187,154. That's enough to run the shop for five weeks. Increasing that cushion has lowered my stress level from Code Red to Easy Blue.
So what led to this turnaround? I think it was an effective AdWords campaign, which feeds an expanded sales operation, which supplies an efficient shop floor. Today I'd like to talk about AdWords and how we process the inquiries it generates. Tomorrow, I'll talk about what happens on the floor.
In 2010, 90.2 percent of our sales came from AdWords. The rest were repeat orders from my old residential clients and one big order from a local architect we have known for a while. In 2011, clients who found us through our Web site placed orders worth $2,080,157. This was 96.5 percent of our sales. The other 3.5 percent came, again, from old clients.
At the beginning of 2011, I started tracking the number of inquiries we get, which arrive as either phone calls or e-mails. We received a total of 668 inquiries. The vast majority of these came from our Web site. We know this because many of them come as e-mails through the site, and most of the people who call mention that they are looking at the site. I don't know which calls were generated by organic search results and which came from people who clicked on one of our ads, but, as I concluded after an experiment in November, AdWords is doing the heavy lifting.
In 2010 our AdWords campaign yielded 25,288 clicks, which cost me $100,090, or $3.95 per click. Each click yielded $61.27 in sales. Our Web site received 40,249 unique visitors. In 2011 the ads generated 28,350 clicks, which cost me $109,613. That's $3.85 per click, pretty close to the 2010 cost. Each click in 2011 yielded $73.37 in sales, a return on investment of 1,897 percent on my AdWords spend. Not too shabby.
In 2011, the number of clicks rose 12.1 percent, the cost per click went down by 9.7 percent, and the revenue per click went up 24.1 percent. How did that happen? Was it just more traffic to the site? The number of unique visitors in 2011 increased to 47,630 from 2010's total of 40,249. That's an increase of 18.3 percent. (We have to take into account traffic from this blog, but the site actually received fewer visits from The New York Times in 2011 than it did in 2010. I have only talked to one client who found us through the blog, so I don't think it has much affect on sales.)
I believe that the number of clicks rose because more people were shopping this year. I think our cost per click went down because I restructured our campaign by increasing the number of ad groups we targeted, so that we were getting results in very specialized searches where the cost is not so high. And I increased the revenue per click by putting more resources into our response to inquiries, so that we could give plenty of attention to likely customers.
In 2008-9, I was the only person in the company who made sales. In fact, taking incoming calls and writing proposals took up most of my time. Each proposal takes several hours to put together, and in those years, I couldn't let any slide by, as we were desperate for sales. I don't have good numbers for 2008, but in 2009 I wrote 145 proposals. Running the company also took some effort, so I was working long days. This took a toll on my body. By June of that year, I was almost crippled from carpal tunnel in both hands, but the phone was still ringing every day.
I knew I needed help. I brought one of my best cabinetmakers, Nathan Rossman, off the shop floor and taught him how to make sales. Taking a highly skilled craftsman off the floor was expensive in two ways: I had to keep paying Nathan while he learned sales, and I lost his capacity to produce work. I was worried, when I first started him on his new job, that I would find that my ability to present and sell our tables was unique. I'm very good at talking, writing and putting together proposals.
If I was the only one who could sell our product, it would mean that the company would never be able to expand beyond $1.25 million a year in sales, which is the most I am able to turn out before breaking down physically. Fortunately, our sales methods proved transferable. I put Nathan's desk in my office. The physical proximity made it easy for him to ask questions and get instant answers. He was also able to listen in on my phone calls so that he would get a sense of what to say. In 2010, Nathan and I completed 357 proposals. I sold 82 (!) jobs totaling $1,233,542. Nathan sold 24 jobs worth $312,833.
At the beginning of 2011, I initiated a redesign of our Web site that made it easier for customers to find particular types of tables, and I rejiggered the AdWords campaign to better align search terms with the page we show clients. This effort would take six months, half for the additional Web development and half to add new content. In April, assuming the changes were going to work, I hired a second salesman, Don Wuest. He started in June. I moved the whole office staff, including me, into one small office so that we could all talk to and listen to each other. As with Nathan, it took Don several months to learn our sales method, but by the end of the year he was selling at a pace equal to ours.
In 2011, the three of us wrote 545 proposals. I sold 49 jobs worth $903,976; Nathan sold 54 jobs worth $972,601; and Don sold 16 jobs worth $278,870. Next year I hope to switch totals with Don. I'll be throttling back my own involvement in sales with the intention of turning my spotlight on the business itself. Not that I don't enjoy interacting with our clients, but I've been doing it for 26 years and I'd like to take a break.
In a world where people want their stuff delivered fast, it's important that an increase in sales be matched with more output. Otherwise the wait period, which we call backlog, gets to be unacceptable, and we lose prospective clients. In 2011 our production kept pace with our increasing sales. This was due to an increase in our productivity on the shop floor, which I'll talk about in detail tomorrow.
Paul Downs founded Paul Downs Cabinetmakers in 1986. It is based outside of Philadelphia.
Article source: http://feeds.nytimes.com/click.phdo?i=6b0cb41c7b0d8f4f2b421a75e476f3a4