For the fall test drive, an Off the Grid employee drove the Cubert to Fort Mason on a flatbed truck, unfolded it, extended the flap that shields customers from inclement weather and made sure that the self-contained sinks and refrigeration unit were working. Ms. Miranda, a 26-year-old baker, arrived later that morning with her ingredients and a deep fryer that she connected to the unit's generator.
When she was done for the day, she went home. The Off the Grid driver cleaned, folded and loaded the cube back onto the truck, and drove it to a storage space.
Mobile food has grown exponentially since the Los Angeles chef Roy Choi hit the road in 2008 with his Koji Korean barbecue truck; there are now more than 4,000 food trucks nationwide, according to the market research firm IBISWorld.
The temporary-stall model has grown as well: For the last two years, Mr. Cohen — who started with three markets and now runs 15 (with as many as 60 weekly events in the March-through-October season) — has fielded about 350 applications for eight or nine open slots at Fort Mason alone.
Jon Feldman, Stumptown's vice president in charge of wholesale accounts, sees potential for growth at sites where specialty coffee couldn't go before. "It's hard to do what we do from any old place: power and water requirements, space constraints," he said. "With Cubert you can open a small coffee outlet in the middle of a field," for, say, a music festival.
Brian Lewis, senior vice president for retail development and curation at Kilroy Realty Corporation in San Diego, plans to install a Cubert in a San Francisco office building early in 2018, to see if it can revive a moribund corner of a ground-floor plaza. He wants to replace a cafe in a Santa Monica, Calif., property with one as well, betting that the Cubert can give older properties an edge in what he calls "an all-out amenities war with our competition."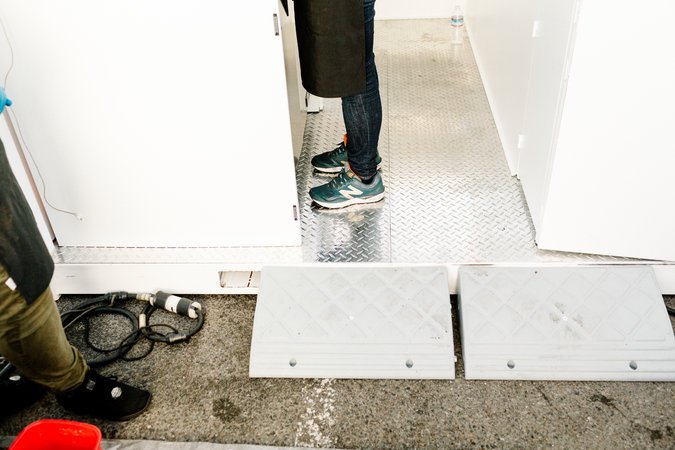 If big companies bite, Mr. Cohen will be able to expand his transportation and support network beyond the Bay Area, though he is quick to reassure potential customers outside the region that hiring "a flatbed truck isn't a big thing," and that Off the Grid is ready to help purchasers find a local transport company. He is already thinking about ways to improve the basic Cubert, including climate control to make them cooler in the summer and warmer in the winter.
Advertisement
Continue reading the main story
It's a tantalizing notion to anyone who sells food outdoors, which includes farmers as well as purveyors of prepared foods. Michael Hurwitz, director of Greenmarkets for GrowNYC, was excited about the idea before he ever saw a photo of the Cubert. He thinks that farmers' markets are ready for a gut renovation.
For now, Ms. Miranda is grateful simply to have been awarded a Cubert at Fort Mason in the spring, as a way of thanking her for trying it last fall. The cube made her life "so much easier," she said, and made her dream of a bakery seem within reach.
"It would be a huge next step," she said. "It's not quite a food truck or brick and mortar, but it's not a tent outside. It has a little more of that brick-and-mortar feel."
Follow NYT Food on Facebook, Instagram, Twitter and Pinterest. Get regular updates from NYT Cooking, with recipe suggestions, cooking tips and shopping advice.
Continue reading the main story
Article source: https://www.nytimes.com/2017/12/22/dining/cubert-portable-food-stall.html?partner=rss&emc=rss