Net income fell to €747 million ($817 million) from the previous year's €924 million (over $1 billion). The bank said it has also set aside a €350 million ($381 million) provision in the first quarter related to the case.
"Societe Generale and the Libyan Investment Authority jointly announce that they have signed a confidential settlement agreement that resolves all matters between both parties concerning five financial transactions entered into between 2007 and 2009 that have been the subject of legal action in the English High Court," SocGen and LIA said in a joint statement.
LIA filed a lawsuit against Societe Generale last year in relation to $2.1 billion worth of trades which had been carried out before Muammar Gaddafi was ousted.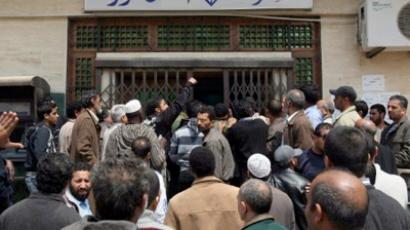 Libyan war a boon to banks that wasted Gaddafi's money
The case hinged on a $58.4 million payment made by SocGen to a businessman named Walid Al-Giahmi to secure investment deals. The LIA, which manages Libya's oil profits, claimed the payment was a bribe, making the trades invalid.
The Paris-based bank denied any wrongdoing and said it wished to express its "regret" at the lack of caution given by some of its employees.
"Societe Generale apologizes to the LIA and hopes that the challenges faced at this difficult time in Libya's development are soon overcome," SocGen said.
A $60 billion oil-wealth fund, LIA is fighting to recoup billions of dollars in losses on deals that soured during the global financial crisis.
It had a similar lawsuit against Goldman Sachs, attempting to claw back $1.2 billion from nine trades carried out in 2008. The bank supposedly used prostitutes, private jets, and five-star hotels to secure contracts. The Goldman case was tossed out following a two-month trial last year.
Article source: https://www.rt.com/business/387137-societe-generale-profits-libya/?utm_source=rss&utm_medium=rss&utm_campaign=RSS