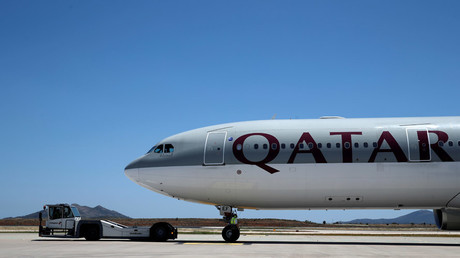 The Qatar Central Bank is currently trying to keep the riyal fixed at around 3.64 per dollar, but the Saudi-led boycott raises concerns that the regulator will have to weaken the currency.
"I don't think there is any reason that people need to be concerned about what's happening or any speculation on the Qatari riyal," the Emirate's finance minister, Ali Shareef Al Emadi, said in an interview with CNBC earlier this week.
"We have the assets and the security that we need. Our foreign assets and our foreign investment is more than 250 percent of our GDP. So we are very much comfortable. We know we can defend the currency or we can defend the economy," he added.
On Tuesday, the Qatari riyal dropped to $3.66, the weakest in 19 years. The currency has been traded below $3.64 for seven consecutive days, the longest period of weakness for the riyal since 1993.
The "unprecedented" speculative pressure on the riyal may last until Doha resolves the dispute with the neighboring states, according to analysts at ING, as quoted by FT.
Last week, international rating agency Standard Poor's (SP) cut Qatar's credit rating after outflows from portfolio investments pulled the riyal down to 11-year lows.
Earlier this week, Fitch warned that "it is becoming more likely that the crisis will be sustained."
Last week, a group of Muslim countries led by Saudi Arabia severed diplomatic ties with Qatar, accusing the country of backing terrorist groups. Doha has denied the allegations.
The country's stock market has plunged around nine percent since the announcement.
Article source: https://www.rt.com/business/392088-qatar-currency-low-diplomatic-crisis/?utm_source=rss&utm_medium=rss&utm_campaign=RSS