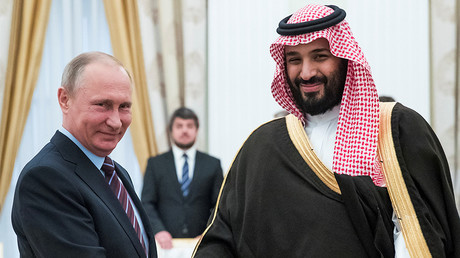 The goal could be reached in the very near future, he said at a meeting with his Russian counterpart Aleksandr Novak.
Russian and Saudi energy ministers also said cooperation between the countries in the oil markets would continue after the current joint oil output agreement expires in March 2018.
"It is necessary to work out new framework principles for continued steady cooperation between OPEC and non-OPEC even after the expiration of the Vienna agreements," said Novak.
In December, OPEC, Russia and other major producers agreed to curb production by 1.8 million barrels per day (bpd) for six months from January 1 to support the market and push prices to $60 per barrel. Last week, the agreement was extended by another nine months.
Russia's Novak said on Wednesday the country would cut production by 300,000 barrels per day (bpd) by October.
Oil prices were down on Wednesday with Brent crude trading 55 cents lower at $51.29 per barrel, while US West Texas Intermediate fell 51 cents to $49.15.
Traders said the price fell on the news of higher output in war-torn Libya and a rise in US production.
Libya's oil output is expected to increase to 800,000 barrels bpd this week, state-run National Oil Corporation said on Monday.
"Libyan and shale oil production seems to have occupied the mind of traders overnight. That's consistent with my sense that this is all about inventories and the associated supply overhang in crude oil markets at the moment," said Greg McKenna, chief market strategist at futures brokerage AxiTrader, as quoted by Reuters.
Article source: https://www.rt.com/business/390276-opec-russia-novak-al-falih/?utm_source=rss&utm_medium=rss&utm_campaign=RSS