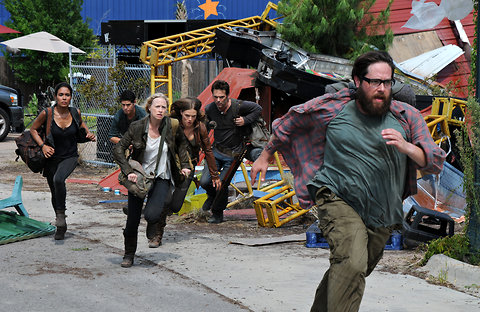 Brownie Harris/NBC "Revolution," a popular NBC show, was produced by Warner Brothers, a Time Warner unit.
A strong quarter at Time Warner's suite of cable channels contributed to a 1.9 percent increase in net profit for the third quarter, but revenue was offset by continued weakness at its magazine and movie divisions.
On Wednesday, Time Warner reported net income of $838 million, or 86 cents a share, compared with $822 million, or 78 cents a share, in the period last year. Revenue at the company fell 3 percent, to $6.84 billion.
The company's networks division, which includes cable channels like TNT, TBS and HBO, reported its strongest quarter ever, with $1.22 billion in operating income, a 12 percent increase from 2011.
Revenue at the division grew 4 percent, to $3.34 billion, largely because of an increase in subscription revenue and in the number of subscribers to HBO.
Jeffrey L. Bewkes, chief executive of Time Warner, called the networks business the "highlight" of the quarter and said the strength of the cable channels "illustrates that our investments in content and technology are paying off."
He pointed out that while NBC was being praised for its ratings turnaround in the fall season, most of the shows that have contributed to its success came from Time Warner's Warner Brothers studio.
"The overall story is that the top two nonsports shows on NBC, 'The Voice' and 'Revolution,' are Warner productions," Mr. Bewkes said.
One continued albatross for Time Warner is its CNN cable news channel, whose ratings have declined in recent months. But Mr. Bewkes praised the channel's coverage of the presidential election and said it benefited from the political season. "CNN won the night last night," Mr. Bewkes said in a conference call with analysts.
The third-quarter results for Time Warner show the same gap between divisions that exists at other major media conglomerates, including News Corporation.
Cable television remains a strong and lucrative business for these companies, while legacy publishing units continue to lag.
Ratings at TBS were up 35 percent in prime time for viewers aged 18 to 49, for example, while at subscription revenue at Time Inc. fell 6 percent and its advertising revenue fell 5 percent.
Overall revenue fell 6 percent, to $838 million at Time Inc., the publisher of People, Sports Illustrated and Entertainment Weekly among other magazines. Operating income at Time Inc. increased by 2 percent, to $126 million, largely because of cost-cutting.
The company's Warner Brothers studio also had a sluggish quarter, mostly because of comparisons to the three-month period last year, which included revenue from hits like "Harry Potter and the Deathly Hallows: Part 2" and syndication revenue from "The Big Bang Theory." Revenue at the film and television division fell 12 percent, to $2.9 billion, and operating income fell 37 percent, to $328 million.
Mr. Bewkes was bullish on the studio's coming movie "The Hobbit" and said word-of-mouth had helped the suspense thriller "Argo" deliver solid box-office results. "Over all, I'm very confident about how we're positioned heading into the next year and beyond," he said.
---
This post has been revised to reflect the following correction:
Correction: November 7, 2012
An earlier version of this post carried an incorrect byline. The post was written by Amy Chozick, not Amy Harmon.
Article source: http://mediadecoder.blogs.nytimes.com/2012/11/07/cable-networks-help-time-warners-quarterly-profit/?partner=rss&emc=rss