"Since I was a child, I was just fascinated by the printed word," he explained in a 1985 interview with The Miami Herald.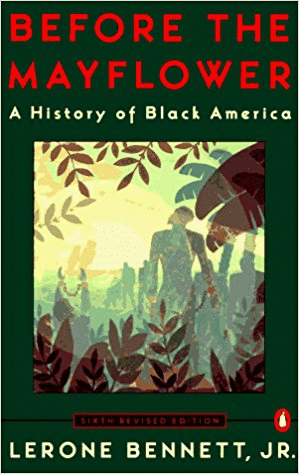 He grew up in Jackson, Miss., and by 12 was writing for The Mississippi Enterprise, a black newspaper there. After graduating from Lanier High School, he went to Morehouse College, the historically black institution in Atlanta, and was working on the student newspaper when it published some of the early writings of another Morehouse student, Martin Luther King Jr. Mr. Bennett graduated in 1949, the year after King did, and went to work at the black newspaper Atlanta Daily World.
He moved to Jet magazine in Chicago in 1953 as an associate editor and to Ebony, its sister publication, a year later. He became senior editor there in 1958 and later executive editor. He worked for the magazine into his 80s.
"Before the Mayflower" established Mr. Bennett as a leading scholarly voice during the racial ferment of the 1960s. In 1966 he testified before a House Education subcommittee looking into racism and unrest, and was blunt, tracing the turmoil of the times to an education system that did not prepare students to live in a multiracial society.
"It is my opinion, and the opinion of many writers and scholars in this field," he said, "that segregated textbooks — and segregated and segregating use of words, symbols and ideas — are as dangerous to the internal peace of America as segregated schools and residential areas."
That was relatively mild compared with what he said about Abraham Lincoln in a January 1968 article in Ebony. Despite his reputation as an emancipator, Mr. Bennett wrote, Lincoln was actually a white supremacist who thought that the races would be better off separated, "preferably with the Atlantic Ocean or some other large, deep body of water between them."
"The man's character, his way with words and his assassination, together with the psychological needs of a racist society, have obscured his contradictions under a mountain of myths," he added.
In an interview after the article was published, he stuck to his guns. "Last year, during the riot season, President Johnson said he hoped he would handle himself as Lincoln did during the Civil War," he said. "If he does, it will be a disaster."
Advertisement
Continue reading the main story
Mr. Bennett expanded on his argument in 2000 in the book "Forced Into Glory: Abraham Lincoln's White Dream." The historian James M. McPherson found it a flawed work.
"Bennett," he wrote in reviewing the book in The New York Times, "fails to appreciate the acuity and empathy that enabled Lincoln to transcend his prejudices and to preside over the greatest social revolution in American history."
Mr. Bennett's other books included "What Manner of Man: A Biography of Martin Luther King Jr." (1964), "Black Power U.S.A.: The Human Side of Reconstruction, 1867-1877" (1967) and "The Shaping of Black America" (1975).
In 1965 he married Gloria Sylvester. She died in 2009. His survivors include their daughters, Joy, Constance and Courtney, and three grandchildren. A son, Lerone III, died in 2013. Mr. Bennett lived in Chicago.
In an oral history recorded in 2010 for the National Visionary Leadership Project, which collects the stories of notable black Americans, Mr. Bennett talked about a three-part approach to affecting change.
"Every black person is obligated," he said, "to try to do what he does as well as any person who ever lived can do it, or any person who ever lives can do it; then, to try to save one — just one — person if you can. And then to struggle to destroy a system which is multiplying black victims faster than all the black intellectuals and the black leaders in America can talk about. I see those three things connected."
Continue reading the main story
Article source: https://www.nytimes.com/2018/02/16/obituaries/lerone-bennett-jr-historian-of-black-america-dies-at-89.html?partner=rss&emc=rss