Newspapers liked "Ponytail" because the strip attracted younger readers, Greg Beda, who is writing a biography of Mr. Holley, said in a phone interview.
"I think 'Ponytail' was the best panel to get teenagers to read the newspaper versus other comics," he said.
Gordon Leroy Holley was born on April 20, 1932, in Phoenix and grew up, with a brother and sister, in Watsonville, Calif. His father, Gordon Virgil Holley, was a machinist; his mother, the former Vida Marie Canada, was a nurse's aide.
Lee Holley showed artistic talent from a young age. In high school he began taking on commissioned work and painted a wall mural for a local ice cream shop depicting archetypal teenagers playing basketball and sharing milkshakes with two straws.
After graduating, he joined the Navy in 1951 and was stationed on an aircraft carrier during the Korean War as a weapons inspector. He spent his free time drawing cartoons and comic strips for the Navy publications "Our Navy Magazine" and "All Hands."
Mr. Holley attended the Chouinard Art Institute in Los Angeles in 1955 and was later hired by Warner Bros. Studios to work for the animator Friz Freleng's award-winning "Looney Tunes" unit.
By 1958, he was assisting Mr. Ketcham as a ghost illustrator of the popular "Dennis the Menace" strip, handling the comic's art for the Sunday papers, cereal box advertisements and "Dennis the Menace" books. In a 2005 autobiography, Mr. Ketcham described Mr. Holley as a "young fitness nut and a clever cartoonist with a special affinity for the younger generation."
Advertisement
Continue reading the main story
Branching out on his own with "Ponytail" in 1960, Mr. Holley signed on with King Features Syndicate, which began distributing the comic to about 300 newspapers internationally.
Although "Emmy Lou" and "Penny" predated "Ponytail" in focusing on American teenagers, the dialogue in Mr. Holley's comics was often considered the most authentic.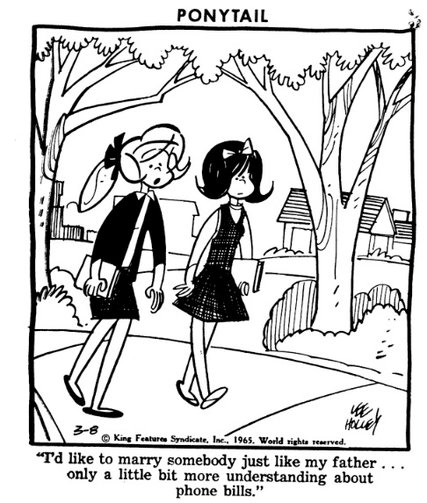 In 1963, he revealed on the television quiz show "To Tell the Truth" that he conducted field research by chatting up teenagers at pizza parlors and attending dances. He subscribed to publications like "Teen Beat" and "Seventeen" and even went back to his own high school to sit in on classes, he told Hogan's Alley, a magazine of the comic arts, in 1999.
He also wove his own family members into the story lines.
"Ponytail's boyfriend, Donald, was our brother Donald; Ponytail's father was like our dad," his sister, Donna Roberts, said in an interview. "He drew on those memories."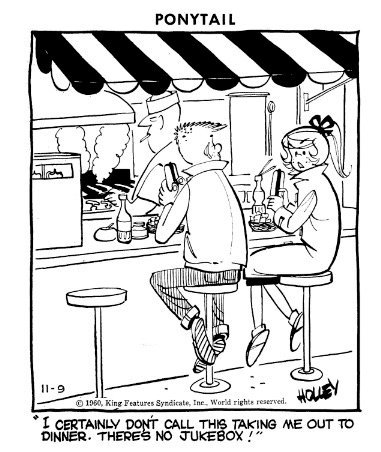 Mr. Holley also drew characters for the "Looney Tunes" and "Porky Pig" books by Gold Key Comics during the 1970s, and succeeded Greg Walker in drawing the "Bugs Bunny" newspaper comic from 1980 to 1988.
By 1988, the number of newspapers still publishing "Ponytail" had dwindled, and Mr. Holley retired the following year.
In addition to his daughter and sister, he is survived by his wife, Patricia; his brother, Donald; another daughter from a previous marriage, Susan Carothers; two grandchildren and a great-grandson. His first marriage, to Dorothy Crosetti, ended in divorce in the 1950s.
What Mr. Holley enjoyed most about his career was the freedom it gave him, he told Hogan's Alley.
"There was no one telling me what to do," he said. "I had deadlines, but other than that I was on my own. It really wasn't work to me."
Continue reading the main story
Article source: https://www.nytimes.com/2018/04/19/obituaries/lee-holley-cartoonist-of-teenage-life-in-ponytail-dies-at-85.html?partner=rss&emc=rss