Investors fled riskier assets following accusations President Donald Trump was trying to stop the investigation of former national security adviser Michael Flynn.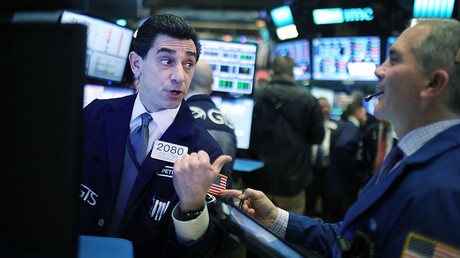 Wall Street surges to record high on Trump's hint of 'phenomenal' tax cut
"With a growing chorus of Democrats accusing Trump of obstructing justice and even calling for his impeachment, the Trump administration could come to an early season finale," wrote Lukman Otunuga, a research analyst with currency broker FXTM.
The Dow Jones industrial average closed 373 points lower, down 1.78 percent. The SP 500 declined by 1.8 percent, while financials dropped 3.1 percent to lead decliners. The Dow and the SP also recorded their worst day since September of last year, giving up their gains for the month.
"This is clearly Washington-driven. It's a lot like 1998-99 when the market had to deal with the Lewinsky scandal," said Michael Shaoul, chairman, and CEO of Marketfield Asset Management, as quoted by CNBC.
The US dollar index dropped to the lowest level since November and forced investors to look for safe heavens, dragging benchmark Treasury yields to about 2.21 percent and boosting both the Japanese yen and gold by two percent.
READ MORE: Gold price soars to 5-mth high on geopolitical unrest
"The news out of Washington is alerting markets to the rising implementation risk associated with the pro-growth policies that have already been priced into markets. The more this occurs, the greater the downward pressure on stocks, the dollar and government bond yields," said Mohamed El-Erian, chief economic adviser to Allianz as cited by the FT.
The new session sees 10-year Treasury yields gaining three basis points to 2.25 percent and the US dollar slightly up to 97.61. SP 500 futures are set to gain 0.5 percent. The yen dropped 0.5 percent to 111.38 against the greenback, while gold fell by 0.3 percent to $1,257 per ounce.
Oil retreated from overnight gains, which were boosted by news of US inventories dropping for six weeks in a row. Crude prices were down about 1.6 percent with Brent trading at $51.36 per barrel and WTI at 48.29 per barrel as of 11:15 am GMT.
READ MORE: $35bn hit: Zuckerberg, Gates among those to suffer massive losses amid Trump-Russia claims
The Wall Street selloff comes just two days after both the SP 500 and Nasdaq closed at record highs. The Dow is still up about four percent so far in 2017 while the SP 500 is up five percent.
Article source: https://www.rt.com/business/388808-markets-dollar-investors-us-politics/?utm_source=rss&utm_medium=rss&utm_campaign=RSS