"In the first quarter of 2017, we might not have seen a resounding return to deficits, but this report confirms our recent message that re-balancing is essentially here and, in the short-term at least, is accelerating," the IEA said.
The agency kept its global demand growth forecast for 2017 unchanged at 1.3 million barrels per day (bpd) due to a gradual decrease in previously active consumer markets, including the US, Germany, and Turkey.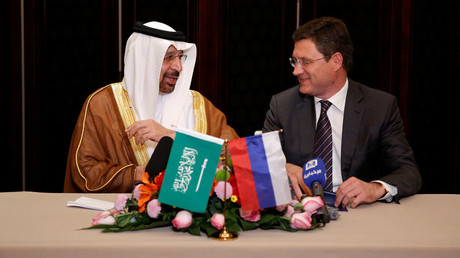 Crude surges as Russia Saudi Arabia back supply cuts extension
According to the report, commercial inventories decreased for a second straight month in March, by 32.9 million barrels to 3.025 billion barrels.
At the same time, stocks in industrialized countries grew by 24.1 million barrels for the first quarter as a whole.
"It has taken some time for stocks to reflect lower supply when volumes produced before output cuts by OPEC and 11 non-OPEC countries came into effect are still being absorbed by the market," the agency said.
In April, global supply reportedly dropped by 140,000 bpd to 96.17 million bpd. The decline was mostly due to countries outside of OPEC, such as Canada.
Non-OPEC production could grow by 600,000 bpd this year due to sharp increases in the United States, Brazil, and Kazakhstan, according to the report.
The IEA said that if OPEC, which is set to meet on May 25, kept output at an April level of 31.8 million bpd, and nothing changed elsewhere in the balance, there would be an implied global draw of 700,000 bpd in the second quarter.
"Adopting the same scenario approach for the second half of 2017, the stock draws are likely to be even greater," the agency said.
According to the report, increasing production in Nigeria and Saudi Arabia offset lower flows from Libya and Iran last month. At the same time, compliance with OPEC's agreed 1.2-million bpd cut remained robust at around 96 percent.
In April, OPEC crude production saw its largest year-on-year decline in almost three years as cartel members cut output by 535,000 bpd compared to the same period a year ago.
The IEA data shows that demand from China remained relatively healthy. The country consumed nearly 425,000 bpd in the first quarter of the year, compared with 2016.
The agency expects Indian demand growth to be around 200,000 bpd as the state demonetization policy will probably lower consumption this year.
Consumption in the US has weakened, and the IEA expects demand to be flat for the rest of the year. The latest official data on US demand for February revealed the biggest decline in almost four years at 495,000 bpd, according to the agency.
Article source: https://www.rt.com/business/388531-oil-market-back-balance-iea/?utm_source=rss&utm_medium=rss&utm_campaign=RSS