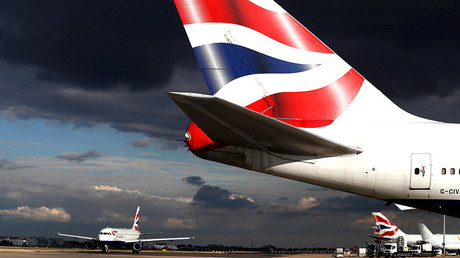 On Saturday, an IT system failure caused all the airline's flights from Heathrow and Gatwick airports to be canceled leaving about 75,000 passengers stranded. Many of them had to spend the night in the terminals.
More flights were canceled on Sunday with long delays and further cancellations continuing into Monday.
According to independent aviation analyst Howard Wheeldon, the "cost of reputational damage to British Airways (BA) is incalculable at this stage, but it will be considerable."
"I suspect that the minimal cost of recovery and claims costs will be in excess of £120 million ($154 million). Adding both together, we could be talking double that amount," he was cited as saying by City A.M.
Robin Byde, an aviation analyst at Cantor Fitzgerald, told CNN Money the cost of compensating passengers, refunds, additional staffing and lost revenue could total between £80 million ($102 million) to £100 million ($138 million).
Another analyst, Stephen Furlong from Davy Research, said the one-day outage cost the company about £30 million ($39 million) in lost revenue alone.
"The main cost will be compensations — depending on how many people claim it, my guess would be it could reach around €50 million ($56 million)," Furlong said.
Passengers on flights operated by European airlines to and from countries in the EU are entitled to compensation of between €250 ($280) and €600 ($670) each, depending on the route.
British Airways' chief executive Alex Cruz described the impact of the disruption as a tragedy and pledged the airline would follow all applicable compensation rules.
"We absolutely are committed to provide and abide by the compensation rules that are currently in place," he told Sky News.
Experts say the reputation cost of the incident will be a further headache for the company. Handling of the crisis is "undoubtedly the single worst event in the airline's history since privatization," said Wheeldon.
Article source: https://www.rt.com/business/390154-british-airways-flights-cancel-cost/?utm_source=rss&utm_medium=rss&utm_campaign=RSS