A 2016 study in the International Journal of Fashion Design, Technology and Education found that the average American woman wore a size 16 or 18. Yet annual spending on larger-size apparel accounts for only 16 percent of the $112 billion market in the United States because the inventory was not available.
"We're getting bigger, but the business hasn't gotten bigger," Marshal Cohen, a retail industry analyst at the NPD Group, said.
That has begun to change. Spurred by an underserved market, along with a heightened emphasis on inclusiveness in the fashion industry, new retailers are sensing an opportunity. E-commerce businesses that rent, as well as sell, larger sizes have grown. With some focusing on moderately priced clothes and others concentrating on the designer market, these sites are finding an eager audience. Social media influencers like Jordyn Woods and Tess Holliday and actresses like Rebel Wilson and Chrissy Metz have also raised the profile of this market.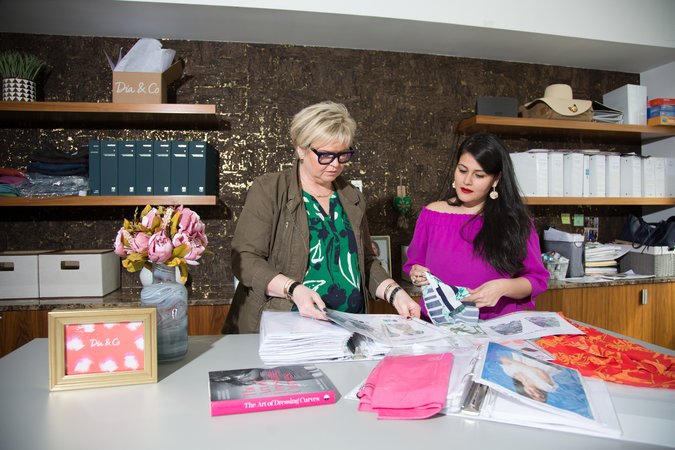 Retail giants are also expanding their presence in this market. In March, for example, Walmart acquired Modcloth, an e-commerce site that sold clothing in a range of sizes. Other e-commerce sites, like Stitch Fix, have also begun to offer larger sizes. But industry experts say large retailers lack the personal touch that shoppers seek.
"While Walmart and Amazon could be formidable competitors, this customer wants a company that understands her, and isn't just selling to everyone," Mr. Cohen said.
So some retail start-ups are trying to meet those demands. Christine Hunsicker, a tech entrepreneur, and Jaswinder Pal Singh, a computer science professor at Princeton, started Gwynnie Bee, a subscription-based clothing rental service.
"We became interested in apparel because of the size of the market and the need," Ms. Hunsicker said.
Advertisement
Continue reading the main story
In the Gwynnie Bee model, women who wear sizes 10 to 32 receive regular shipments of clothing. Once it's worn, no laundering is required; clients simply return the options to the company for a fresh selection. If the customer loves an item, she can buy it, Ms. Hunsicker said.
In contrast, Eloquii is a reincarnation rather than a start-up. The company was originally a brick-and-mortar retailer owned by the Limited, which, despite protests from a loyal customer base, shut down the brand in 2013, Ms. Chase said.
Newsletter Sign Up
Continue reading the main story
The founder and chairman, John Auerbach, who has held a number of e-commerce positions, bought Eloquii's assets from Sun Capital in 2013, including intellectual property and the customer list. Ms. Chase joined the same year. The company has already been through two rounds of venture capital financing, and now has backing of close to $40 million, Ms. Chase said.
Most of these businesses are focused on online customers, but some are experimenting with physical stores. Eloquii has opened three, in Chicago; Columbus, Ohio; and Washington. Two of them are pop-ups.
Most physical stores with plus-size apparel do not "offer a great experience," Ms. Chase said, so Eloquii is focusing on fitting-room aesthetics and other amenities
Gwynnie Bee had a pop-up store on Fifth Avenue in Manhattan that "went really well," Ms. Hunsicker said, adding that her company is trying to determine what role a store plays in its business model.
A bigger challenge for the companies is finding inventory. Designers have become more accommodating, spurred both by an untapped market and the desire to appear inclusive. But entrepreneurs are not waiting for manufacturers to make the first move.
New York Fashion Week, which officially began Thursday, offers an opportunity for these entrepreneurs to get noticed. Dia took out a full-page ad in The New York Times during New York Fashion Week last February, encouraging designers to look anew at the market with the line "Fashion she can't wear is becoming a bit unfashionable." The gamble paid off: Ms. Boujarwah said the ad had led to two new lines, one with Ms. Wilson, the actress, and the other with the designer Nanette Lepore.
Entrepreneurs are learning to be more flexible, too. For instance, Gwynnie Bee will add smaller sizes to its lineup after determining that designers would be more willing to work with it if it offered a wider range. The site, Ms. Hunsicker said, will include only items that are available in all sizes.
Advertisement
Continue reading the main story
Yet fabrication remains a hurdle for some. As a result, founders like Ms. Boujarwah of Dia, which counts Sequoia Capital among its investors, are designing their own products. Similarly, Ms. Hunsicker said Gwynnie Bee had, "for a number of vendors, taken on a lot of pattern design," in addition to offering the site's private label clothing.
"It's their aesthetic and vision, and we're helping to make it fit," she said.
Many, but not all, of the sites primarily feature moderately priced clothes; as a result, those seeking designer apparel in larger sizes remained underserved. Enter 11 Honoré, which opened in August, shortly before New York Fashion Week last fall. The site was created by Patrick Herning and Kathryn Retzer, whose mothers wear larger sizes and often had difficulty finding higher-end clothing.
"We were adamant about building a luxury brand and bringing the best designers we could, including Michael Kors, Zac Posen, Badgley Mischka, Monique Lhuillier and Prabal Gurung," Ms. Retzer said.
As they began formulating their idea, friends encouraged him to reach out to Kirsten Green, the Silicon Valley venture capitalist known for her retail investing acumen. They pitched their idea and obtained seed financing from Ms. Green's firm, Forerunner Ventures, as well as from several others, for a total of $3.5 million.
Most of the companies do not yet offer intimate apparel, although Eloquii plans to offer lingerie in the future. To reach that market, Deborah A. Christel, a co-author of the study on women's sizes, left her position as an assistant professor at Washington State University to start a company that would encompass all sizes for lingerie.
Ms. Christel said her company, Kade Vos, would begin selling next summer. "It's my hope that one day, women's clothes will just be women's without referring to plus size," she said.
Continue reading the main story
Article source: https://www.nytimes.com/2018/02/08/business/smallbusiness/plus-size-fashion.html?partner=rss&emc=rss