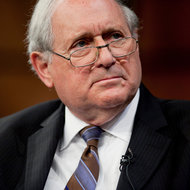 Andrew Harrer/Bloomberg News"Banks that ignore money laundering rules are a big problem for our country," said Senator Carl Levin.
8:55 p.m. | Updated
The global bank HSBC has been used by Mexican drug cartels looking to get cash back into the United States, by Saudi Arabian banks that needed access to dollars despite their terrorist ties and by Iranians who wanted to circumvent United States sanctions, a Senate report says.
The 335-page report released Monday also says that executives at HSBC and regulators at the Office of the Comptroller of the Currency ignored warning signs and failed to stop the illegal behavior at many points between 2001 and 2010.
In one case, an HSBC executive successfully argued that the bank should resume business with a Saudi Arabian bank, Al Rajhi Bank, despite the fact that Al Rajhi's founder had been an early benefactor of Al Qaeda. HSBC's American branch ended up supplying a billion dollars to the bank.
The report is the product of a yearlong investigation by a Senate subcommittee, the Permanent Subcommittee on Investigations. It points to the problems at HSBC, Europe's largest financial institution, as indicators of a broader problem of illegal money flowing through international financial institutions into the United States.
"Banks that ignore money laundering rules are a big problem for our country," said Senator Carl Levin, a Michigan Democrat who leads the subcommittee. "Also troubling is a bank regulator that does not adequately do its job." He called HSBC's compliance culture "pervasively polluted for a long time."
HSBC executives are expected to apologize for shortcomings in the bank's internal controls in a hearing of the subcommittee on Tuesday. The company said in a statement on Monday that "we will apologize, acknowledge these mistakes, answer for our actions and give our absolute commitment to fixing what went wrong."
Mr. Levin, however, said on Monday that HSBC had promised to fix similar problems in years past and failed. "While the bank is saying all the right things, and that is fine, it has said all the right things before," he said.
The hearing is unlikely to be the end of HSBC's problems. The bank has disclosed in regulatory filings that the issues with money laundering are also being investigated by the Department of Justice and could lead to criminal charges and "significant" fines, which analysts have said could reach $1 billion.
The report on HSBC is the latest of several scandals that have recently rocked global banks and highlighted the inability of regulators to catch what is claimed to be widespread wrongdoing in the financial industry. The British bank Barclays recently admitted that its traders tried to manipulate a crucial global interest rate, and multiple major banks are under investigation. JPMorgan Chase disclosed last week that its employees may have tried to hide trades that are likely to cost the bank billions of dollars.
Mr. Levin said that wrongdoing in the financial world has been exacerbated by the relatively light touch of government regulators. "As long as a bank just sees that it is going to be dealt with kid gloves, I think we are going to continue to see these shortfalls that have been so endemic," Mr. Levin said.
The Office of the Comptroller of the Currency has come under particularly harsh criticism for showing too much deference to the banks it regulates. The new leader of the agency, Thomas J. Curry, has promised a stricter approach since he took over in April.
Mr. Curry said in a statement on Monday that members of his staff "fully embrace" the subcommittee's report, and he is expected to testify Tuesday that the agency is already carrying out many of the report's recommendations.
Regulators have been paying close attention to the willingness of global banks to facilitate illegal flows of money from outside the United States. The Treasury Department announced last month that ING Bank had agreed to pay $619 million to settle charges that it moved money into the United States from Cuba and Iran, despite sanctions against those countries, for nearly two decades. Since 2009, there have been five similar settlements between American regulators and other banks, including Barclays and Credit Suisse, over illicit transactions.
In the Senate report, HSBC is facing accusations that it helped its clients circumvent rules intended to stop transactions from countries facing international sanctions, and in some cases flouted laws in pursuit of profits.
While HSBC is accused of moving money into the United States from North Korea and Cuba, the most extensive problems involved accounts in Iran. An independent audit, paid for by HSBC, found that the bank facilitated 25,000 questionable payments involving Iran between 2001 and 2007. In some cases, HSBC executives counseled Iranian financial institutions on how to evade the filters of American regulators, the report says.
When the bank developed a way to process transactions for Iran's largest retail bank, an HSBC executive wrote an e-mail to his colleagues that said, "I wish to be on the record as not comfortable with this piece of business." None of his colleagues responded and the deal went ahead, according to the report.
The subcommittee also found evidence of widespread wrongdoing in HSBC's failure to stop money laundering through accounts tied to drug trafficking in Mexico. The bank is accused of shipping $7 billion in cash from Mexico to the United States in 2007 and 2008 despite several warnings that the money was coming from cartels that needed a way to return their profits to the United States.
In many of the cases detailed in the report, the Office of the Comptroller of the Currency is said to have spotted the problematic behavior. But in nearly every case, the subcommittee found that the agency gave HSBC only a warning or mild punishment and did not push the bank to make large-scale changes.
The agency ultimately issued a cease-and-desist order against HSBC in 2010 after other law enforcement agencies began looking into the problems. Mr. Levin, though, said that his subcommittee found that some of the problems had not been fixed by the time the subcommittee began looking into them over the last year.
A new chief executive took over at HSBC early last year and he has committed to making sweeping changes at the company. In its statement, the bank laid out several steps it had recently taken to increase oversight of international flows of money.
Article source: http://dealbook.nytimes.com/2012/07/16/scathing-report-details-money-laundering-problems-at-hsbc/?partner=rss&emc=rss