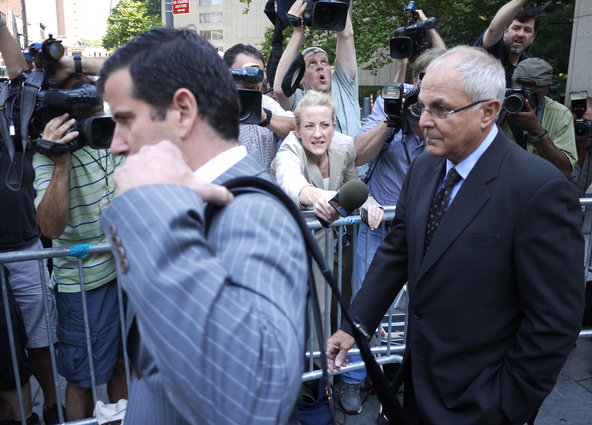 John Marshall Mantel for The New York TimesPeter B. Madoff, right, pleaded guilty to criminal actions that enabled his brother, Bernard L. Madoff, to carry out a Ponzi scheme.
Peter B. Madoff, the former No. 2 executive at Bernard L. Madoff Securities, stood before a judge on Friday and admitted to committing numerous crimes.
He avoided paying taxes on tens of millions of dollars in income, he said. He put his wife on the firm payroll even though she never worked there. He submitted false filings to securities regulators.
But he also emphasized that at no time was he aware that his brother, Bernard, was orchestrating the largest Ponzi scheme in history, wiping out $65 billion in paper wealth and shattering lives around the globe.
"I was in shock, and my world was destroyed," said Peter Madoff, describing his reaction when his brother told him about the fraud in December 2008. "I always looked up to and admired him."
Later in the hearing he said, "I truly believed my brother was a brilliant trader."
In a deal cut with prosecutors before his court appearance, Peter Madoff, 66, agreed to serve 10 years in prison, a sentence that still requires a judge's approval. He has also agreed to forfeit all of his assets, including the proceeds from the sale of a co-op on the Upper East Side of Manhattan; two homes on Long Island and one in Palm Beach, Fla.; and a 1995 Ferrari 355 Spyder.
Judge Laura Taylor Swain of United States District Court in Manhattan accepted the plea, and set him free on bail until his Oct. 4 sentencing. He and his wife, Marion, must turn over their passports and remain in the New York metropolitan area, the judge ordered.
The 10-year sentence was a point of contention between federal prosecutors and the Federal Bureau of Investigation. After Peter Madoff struck the deal with prosecutors, some officials at the F.B.I. questioned whether he got off too easy, according to people close to the case.
Preet Bharara, the top federal prosecutor in New York, addressed the severity of the sentence in a statement on Friday, casting the penalty as steep. Peter Madoff "will now be jailed well into old age, and he will forfeit virtually every penny he has," Mr. Bharara said. A dispute also emerged about the early-morning arrest. The F.B.I. dispatched agents to arrest Peter Madoff at his lawyer's office in Manhattan, and later drove him past a crowd of television cameras. Some officials wondered if the show was necessary since he had already agreed to plead guilty.
The conflict reflected the broader tension over high profile convictions. The tensions have grown as Mr. Bharara, has raised his profile after a series of successful prosecutions. The F.B.I., which builds the cases that Mr. Bharara's office ultimately prosecutes, has played a more anonymous role in the crackdown on financial crime.
"There may be disagreements along the way, but at the end of the day both offices are happy with this result," said Timothy Flannelly, a spokesman for the F.B.I.'s New York branch.
On Friday, the F.B.I. also highlighted Peter Madoff's role as a "chief architect" of the Madoff empire.
"Peter Madoff played an essential enabling role in the largest investment fraud in U.S. history," Janice K. Fedarcyk, an assistant director of the F.B.I., said in a statement.
Peter Madoff acknowledged that, despite his role as the firm's top legal and compliance officer, he failed to perform any meaningful oversight of his brother's investment activities, enabling a fraud that played out for decades, during which he was considered among Wall Street's most highly regarded money managers.
"I am deeply ashamed of my actions," Peter Madoff, reading from notes in a gravelly voice reminiscent of his brother's, said at the hearing before Judge Swain.
"I want to apologize to anyone who was harmed and to my family, and I'm here today to take responsibility for my conduct," he said, choking back tears.
Although Bernard Madoff has maintained that he acted alone, prosecutors have charged 13 others in connection with the case, including the office secretary and an outside accountant. Peter Madoff is the eighth person to plead guilty; five others await trial before Judge Swain.
While it did not match the pandemonium surrounding Bernard Madoff's court appearances, there was a circuslike atmosphere at the courthouse on Friday. Photographers and cameramen crowded the entrance, hoping to get a shot of the defendant. Spectators packed the courtroom, including a group of summer interns from the United States attorney's office.
Peter Madoff's guilty plea comes three years to the day after Bernard Madoff, 74, received a 150-year prison sentence, which he is serving at a federal prison in North Carolina. Peter, who worked for his brother for nearly 40 years, is the first relative to plead guilty to crimes connected to the Ponzi scheme.
"Peter Madoff helped Bernie Madoff create the image of a functioning compliance program purportedly overseen by sophisticated financial professionals," said Robert Khuzami, the director of enforcement at the Securities and Exchange Commission, which filed a parallel civil case.
Prosecutors said that Peter Madoff deceived regulators by submitting sham paperwork that vastly underreported the firm's assets and number of investors. The firm's filings, signed off on by Peter, said it had 23 client accounts, when in fact it had more than 4,000. These misrepresentations helped Bernard Madoff avoid scrutiny, the government said.
The charges against Peter Madoff included falsifying documents and filing fraudulent tax returns. Prosecutors said that from 1998 to 2009, Peter Madoff and his family received more than $40 million from the firm, on which he did not pay any taxes. He avoided the detection of tax authorities by disguising those payments as loans or backdated stock trades, the government said.
Peter Madoff also acknowledged on Friday that, for years, his wife was paid more than $100,000 annually for a no-show job at the firm.
There had been speculation that Peter Madoff's deal with the government included a promise by authorities to not bring any charges against his and Marion's daughter, Shana Madoff Swanson, a lawyer at the firm. But his plea agreement does not protect anyone else from potential criminal charges, according to the plea agreement.
Mark W. Smith, a lawyer for Ms. Madoff Swanson, did not return a request for comment.
In his guilty plea, Peter Madoff described how on the day after learning about the Ponzi scheme, he assisted Bernard Madoff in sending out $300 million to employees, family and friends before Bernard turned himself in. He told the judge why he had committed this crime.
"I did as my brother said," Peter explained, "as I'd consistently done for decades.
Article source: http://dealbook.nytimes.com/2012/06/29/in-guilty-plea-peter-madoff-says-he-didnt-know-about-the-fraud/?partner=rss&emc=rss