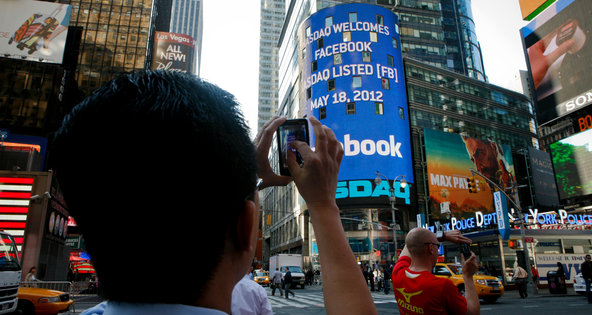 Ángel Franco/The New York TimesA Nasdaq ticker in Times Square.
9:28 p.m. | Updated
The Nasdaq OMX Group is taking its first step to quell investor anger over the flawed debut of Facebook shares last month — pledging $40 million to cover broker losses — but some customers and competitors quickly raised objections.
The stock market operator said on Wednesday that it would set aside $13.7 million in cash and pay out the rest in trading rebates to settle disputes by investors arising from technical malfunctions in Facebook's initial public offering on May 18, the biggest technology I.P.O. ever.
Nasdaq has maintained that the decline in the price of Facebook's stock since the first day was because of factors other than the glitches on the exchange. Facebook's shares rose 3.6 percent to $26.81 on Wednesday, an overall strong day for stocks around the globe, but they are still down 29 percent from the $38 offering price.
Retail investors bore the brunt of the losses from the fumbled I.P.O., but they will not be able to appeal directly to Nasdaq. Instead the exchange is making the money available to the market-making firms that traded on behalf of investors.
Some of the Nasdaq money could flow through to investors who lost money on the first day of trading, including when the exchange ignored their requests to cancel purchase orders. But some analysts say they doubt that the compensation will do much to restore confidence among ordinary investors, who had already been turning away from stock markets before the I.P.O.
Scott Eells/Bloomberg NewsFacebook's first day in public trading, May 18, touched off excitement at the Nasdaq in New York.
Nasdaq's proposal to compensate firms by reducing future trading costs quickly faced opposition from other exchanges, who said the rebates gave Nasdaq an unfair advantage.
Even if approved by regulators, the plan still falls far short of the more than $100 million that industry experts have said market-making firms lost when errors in Nasdaq's systems led to delays in setting an opening price for Facebook. About 30 million shares were executed improperly after trading that was supposed to start at 11 a.m. was delayed by a half-hour.
"Their proposed solution to this problem is simply unacceptable," Knight Capital, a major brokerage firm that has claimed some $30 million of Facebook-related losses, said in a statement. "As previously stated, the company is evaluating all remedies available under law."
Nasdaq's chief executive, Robert Greifeld, has admitted that the ordeal has left his company "humbly embarrassed." In Wednesday's announcement, the exchange said that it had hired I.B.M. to review its technical systems.
Others have been criticized for the Facebook fiasco, among them the lead underwriter, Morgan Stanley, for setting too high an offer price. But Nasdaq has been a popular target for investors and firms involved in the I.P.O. The common thread of their complaints has been that the Nasdaq technical stumbles spooked investors and created a climate of fear that sent the Facebook share price down.
Such are the scope of Nasdaq's problems that its main rival, NYSE Euronext, briefly tested the possibility of luring Facebook onto the New York Stock Exchange, people briefed on the advances have said.
Nasdaq has already explained what lay behind the problem. As Nasdaq's systems were setting Facebook's opening price, a wave of order modifications forced the exchange's computers into a loop of constant recalculations. The firm was forced to switch to another system, knocking out some orders and delaying many trade confirmations.
The net effect was investors left guessing as to whether they held any Facebook shares at all. For days afterward, traders claimed that they still did not know how many Facebook shares they held, while others argued that the technical problems left them holding stock that quickly plummeted in value on Friday and days afterward.
Nasdaq's proposal on Wednesday has several qualifications. Member firms must prove they were directly harmed by malfunctions that erupted before trading started at 11:30 a.m. on the first day of trading, when the stock opened at $42.
And the program applies only to certain kinds of trades, including sale orders priced at $42 or less that did not execute or were carried out at lower prices, and purchases that were priced at $42 but were not immediately confirmed. All claims will be evaluated by the Financial Industry Regulatory Authority.
Brokerage firms that handled the problematic trades declined to comment or said they were reviewing Nasdaq's proposal.
The swiftest response came from other stock exchanges.
NYSE Euronext complained that the proposal would incentivize trading firms to flock to the beleaguered exchange to claim their rebates. The plan would "allow Nasdaq to reap a benefit from market share gains they would not have otherwise received," NYSE said in a statement.
A spokesman for DirectEdge, another major stock exchange operator, said that the company had "several significant concerns with the Nasdaq remedy and plan to aggressively voice them throughout the process."
The Securities and Exchange Commission will ultimately decide whether to approve the compensation program.
Article source: http://dealbook.nytimes.com/2012/06/06/nasdaq-sets-aside-40-million-to-settle-facebook-trading-claims/?partner=rss&emc=rss