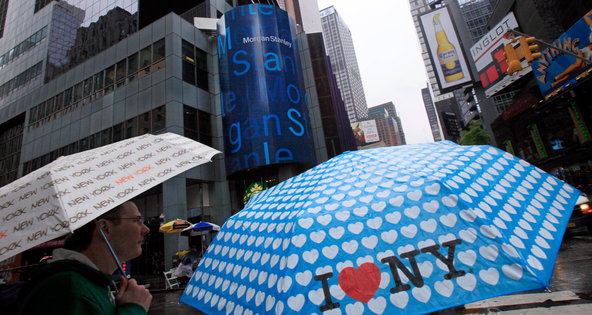 Richard Drew/Associated PressMorgan Stanley's headquarters in Manhattan.
Morgan Stanley's chief executive, James P. Gorman, has made it clear he wants to get his hands on the brokerage business it owns with Citigroup. Now, he will spend the next few months figuring just how much the business, Morgan Stanley Smith Barney, is worth to his bank.
The two financial firms will be wrangling over the value of a 14 percent stake in the joint venture, which Morgan Stanley announced that it would buy on Thursday.
It is an emblematic deal for Morgan Stanley. The financial firm has highlighted the group, which encompasses nearly 17,200 financial advisers and $1.7 trillion of client assets, as a pillar of its turnaround effort to reshape its strategy and to temper risk in the wake of the financial crisis.
Related Links
Morgan Stanley Smith Barney, led by Gregory J. Fleming, is proving to be a bright spot for its parent. Last year, Morgan Stanley's global wealth management group, which includes the joint venture, posted net revenue of $13.4 billion, up from $12.6 billion in 2010. In the first quarter of 2012, global wealth management recorded pretax profit of $387 million, up 12.5 percent from the period a year earlier.
Despite the strength, the two banking giants may have a tough time hashing out the purchase price. One Wall Street executive joked Thursday that Morgan Stanley will be the low bid, and Citigroup will be the high one.
The joint venture was forged in the middle of the financial crisis in January 2009, when the deal was valued at roughly $20 billion. Since then, Citigroup has listed the 49 percent stake on its books at roughly the original level.
But Citigroup does not mark the price of the brokerage up or down with the market — and the bank believes it's potentially worth more than its balance sheet would indicate. The firm has said that the midpoint of its current range of estimates for the brokerage is higher than the value on its books, according to a recent filing.
In the next week, the banks are expected to hire outside advisers to help them come up with a fair market value for their stakes. The process will be more art than science, since each side may have its own interpretation of the business.
The two banks have up to 90 days to agree on a price. But if they do not agree, an arbitrator will decide the matter.
After these negotiations are completed, Morgan Stanley will hold 65 percent of the joint venture. It has the option to buy another 15 percent next year, and the rest of it in 2014.
But Morgan Stanley is already acting like the outright owner. The firm has now moved most of the former Smith Barney advisers onto the Morgan Stanley system. It is expected Morgan Stanley will also eventually drop the Smith Barney from the brokerage's name.
Article source: http://dealbook.nytimes.com/2012/05/31/morgan-stanley-to-increase-stake-in-brokerage-venture-to-65/?partner=rss&emc=rss