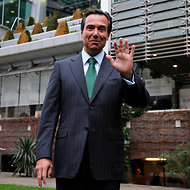 Carl Court/Agence France-Presse — Getty ImagesAntónio Horta-Osório, chief of the Lloyds Banking Group.
LONDON — The Lloyds Banking Group reported a net loss on Friday of £1.4 billion, or $2.2 billion, partly because it was forced to set aside billions of dollars to compensate customers that were inappropriately sold financial products.
Lloyds, which is 39 percent owned by the British government after receiving a bailout during the financial crisis, said it had made a further £1.9 billion of extra provisions during the fourth quarter related to a number of wrongdoings.
Amid reports that the British government may soon starting selling parts of its stake in the British bank, Lloyds said it was continuing to dispose of noncore assets, as well as refocusing on the bank's main retail division.
''My main objective is to get taxpayers' money back,'' Lloyds' chief executive, António Horta-Osório, told reporters during a conference call early on Friday.
Mr. Horta-Osório is in line for a £1.5 million bonus for 2012 that will be paid in deferred shares that he will not be able to access until 2018. To receive the bonus, the British government also must have sold at least one-third of its holding in the bank above 61 pence a share, which is what local taxpayers paid to bail out the bank in 2008.
Lloyds shares are trading around 54 pence, and have risen 56 percent over the 12 twelve months.
The bank's net loss narrowed last year to £1.4 billion, compared with £2.8 billion in 2011.
Earnings were weighed down by a series of extra charges, including an additional £1.5 billion, or $2.3 billion, charge in the three months through Dec. 31 for inappropriately selling insurance to customers. The extra provision takes the total amount that Lloyds has set aside to compensate consumers to £6.8 billion.
Lloyds also more than tripled the amount during the fourth quarter of the year that it will use to compensate small businesses that were inappropriately sold interest-rate hedging products. The figure now stands at £400 million, up from £90 million.
The British bank also said that it continued to cooperate with local and international regulators over the investigation into the manipulation of global benchmark interest rates. Other British banks, including Barclays and the Royal Bank of Scotland, have been fined millions of dollars in connection to the rate-rigging scandal.
''It is currently not possible to predict the scope and ultimate outcome of the various regulatory investigations,'' Lloyds said in a statement.
Article source: http://dealbook.nytimes.com/2013/03/01/lloyds-banking-books-a-2-2-billion-annual-loss/?partner=rss&emc=rss