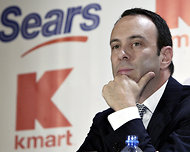 Gregory Bull/Associated PressEdward S. Lampert combined Kmart and Sears in 2005, to great expectations.
After reporting disappointing holiday sales, Sears announced on Tuesday it would shut up to 120 stores nationwide, another blow to the billionaire investor Edward S. Lampert's dream to transform the beleaguered retailer.
Six years ago, Mr. Lampert pushed the storied retailer to merge with Kmart, betting that by combining the two he could wrench savings and bolster profits. But the merger has been an albatross for Mr. Lampert, who is chairman of the Sears Holdings Corporation. Shares in the company have dropped nearly 80 percent from their 2007 peak, beset by flagging sales, increased competition and uninviting stores.
Mr. Lampert has at times been likened to Warren E. Buffett, the chairman of Berkshire Hathaway and famed billionaire investor. Like Mr. Buffett, Mr. Lampert takes concentrated positions in companies that he believes will increase in value and generate lots of cash. Sears Holdings was thought to be something of a Berkshire vehicle – a public entity with which to acquire businesses.
The negative Sears headlines seem to crowd out everything else he has done. But some of his other holdings are faring well.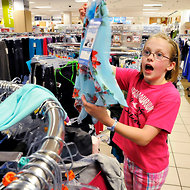 Mickey Welsh/Montgomery Advertiser, via Associated PressA Sears in Montgomery, Ala. The company said it would close up to 120 stores.
AUTOMOTIVE STOCKS
Mr. Lampert is the largest shareholder in AutoNation, the new- and used-car retailer, claiming about 56 percent of the company through his hedge fund and personal stakes.
As the country's largest auto dealership with 257 stores in 15 states, AutoNation has seen its share price soar more than 250 percent since Mr. Lampert first began acquiring shares around 2001. During a 2008 dip, Mr. Lampert increased his stake significantly in the auto seller; since the financial crisis, shares have rocketed 180 percent. His firm, RBS Parnters, still owns about 61 million shares worth roughly $2 billion as of the most recent filing.
Mr. Lampert has also had a long affair with AutoZone, the nationwide auto-parts stores. He owns about 23 percent of the company, according to filings, and was acquiring shares as early as 2001. Since that time, AutoZone shares have gained an astounding 1,000 percent. Currently, Mr. Lampert owns a little less than $3 billion worth of AutoZone, or roughly eight million shares, according to his firm's most recent filings.
RETAIL SHARES
His affection for retail extends to Big Lots, the discount store, and Gap. Mr. Lampert owns just under 7.5 percent of Gap shares, which have fallen more than 12 percent this year.
FINANCIAL HOLDINGS
Mr. Lampert also owns small stakes in a handful of smaller financial institutions, including Capital One, CIT Group, Genworth Financial and Wells Fargo. The stocks have mainly been a drag. Wells Fargo is down 10.39 percent so far this; Genworth is off 50 percent; CIT is down 24.6; and Cap One is up just 0.5 percent
Article source: http://feeds.nytimes.com/click.phdo?i=ab87ca15631a931102aff161cd0828b2