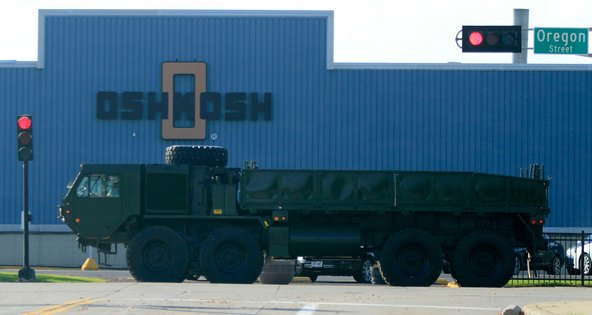 Darren Hauck/ReutersA military vehicle passes by the Oshkosh plant in Wisconsin.
4:56 p.m. | Updated
Carl C. Icahn escalated his proxy fight with the vehicle maker Oshkosh Corporation on Thursday by offering to take over the company for $32.50 a share, or about $3 billion.
The price represents a 21 percent premium to Oshkosh's closing price on Wednesday. Mr. Icahn, who has a roughly 10 percent stake in Oshkosh, urged shareholders to accept his bid.
Oshkosh's shares rose more than 11 percent on Thursday to close at $29.90.
"I strongly believe that Oshkosh needs proactive shareholders to bring a proactive management team together to weather a volatile economy," Mr. Icahn said in a statement.
"Mismanagement of this company has resulted in a lost decade of shareholder value," he added.
Mark Lennihan/Associated PressCarl C. Icahn, the activist investor.
The tender offer is conditioned on Mr. Icahn's nominees being elected to Oshkosh's board at the next shareholder meeting. If 40.1 percent of shares accept the offer, bringing Mr. Icahn's stake above 50 percent, the investor will seek to reschedule the meeting to a sooner date.
Mr. Icahn previously tried to elect directors to Oshkosh's board at the last shareholder meeting, but wasn't successful, Oshkosh noted in a statement on Thursday.
Oshkosh advised shareholders on Thursday to take no action in response to the offer. The board plans to announce its position within 10 business days after the offer is official.
The investor has argued that Oshkosh is being weighed down by JLG Industries, which it bought in 2006. JLG, a maker of construction equipment like scissor lifts and booms, should be spun off, Mr. Icahn said on Thursday.
There was speculation after the offer was announced that Mr. Icahn may look to combine Oshkosh with another truck maker, Navistar International. Mr. Icahn has also been pushing for changes at Navistar, and the company agreed this week to install three of his nominees on its board.
But Mr. Icahn dismissed that talk.
"There's no interest on my part to see them get together," he said in an interview.
Shareholders of Oshkosh will have 45 days to accept Mr. Icahn's offer. But that deadline would most likely be extended if the investor got strong support for his plan.
Article source: http://dealbook.nytimes.com/2012/10/11/icahn-bids-to-take-control-of-oshkosh-truck/?partner=rss&emc=rss