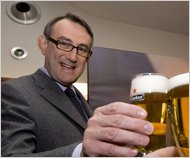 Marcel Antonisse/European Pressphoto AgencyJean-Francois van Boxmeer, chief executive of Heineken
Heineken claimed victory in its fight to gain control of Asia Pacific Breweries on Friday, announcing a sweetened deal to buy the rights to the beer maker held by Fraser Neave for about $4.5 billion.
Under the terms of the new agreement, Heineken will pay about $42.28 a share for Fraser Neave's 39.7 percent stake in Asia Pacific. It will also pay about $130 million for certain other assets held by Fraser Neave.
All told, the new offer is worth nearly 10 percent more than Heineken's initial offer, which was unveiled on July 20.
Through the agreement, which is still pending shareholder approval, Heineken will own 81.6 percent of Asia Pacific. The international brewer would then move to buy out the remaining shareholders, spending an estimated $2 billion.
"I am pleased that FN's Board has agreed that our increased offer, which is now final, represents excellent value for FN and APB shareholders," Jean-François van Boxmeer, Heineken's chairman and chief executive, said in a statement.
The acquisition will give Heineken a stronger base from which to bolster its Asian operations, as Western brewers look to emerging markets to compensate for flat sales elsewhere.
Analysts had said that a higher bid from Heineken was in the offing, especially after Thai Beverage announced this week that it had added to its stake in Fraser Neave, giving it a potentially bigger say in the terms of a revised deal.
Heineken said that it planned to pay for the deal through cash on hand, an existing revolving credit facility and new financing lined up by its banks, Credit Suisse and Citigroup. The company said that it planned to cut its net debt to below 2.5 times its earnings within 24 months of closing the transaction.
As part of the deal, Fraser Neave cannot solicit or hold talks with alternative bidders for its Asia Pacific stake. Should its shareholders reject Heineken's offer at the conglomerate's annual meeting, it must pay the brewer a break-up fee of about $45 million.
Article source: http://dealbook.nytimes.com/2012/08/17/heineken-clinches-deal-for-asia-pacific-breweries-with-4-5-billion-offer/?partner=rss&emc=rss