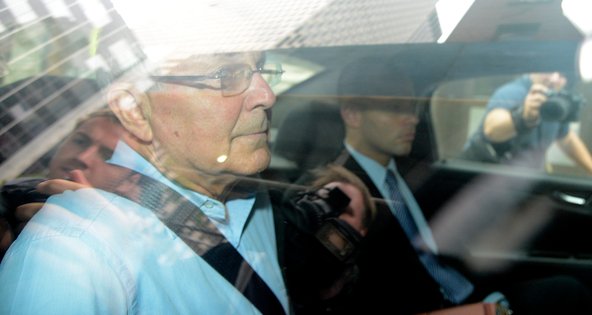 Andrew Gombert/European Pressphoto AgencyPeter Madoff was driven to Federal District Court in Manhattan on Friday to plead guilty to criminal charges.
1:00 p.m. | Updated
Peter B. Madoff, who was arrested early Friday, pleaded guilty to criminal actions that enabled his brother, Bernard L. Madoff, to carry out the largest Ponzi scheme in history.
While Peter Madoff, 66, acknowledged wrongdoing, he said in the hearing at the Federal District Court in Manhattan that he did not know of the fraud that wiped out about $65 billion in paper wealth.
The formal charges against Peter Madoff, 66, included falsifying documents, filing false tax returns and lying to regulators. Prosecutors said that from 1998 to 2009, Peter Madoff, who served as the senior legal and compliance officer for his brother's firm, received $40 million from the firm, on which he didn't pay taxes. He avoided government detection by disguising those payments as loans or backdated stock trades, according to prosecutors.
"I am deeply ashamed of my actions. I want to apologize to anyone who I harmed and to my family," Peter Madoff said, choking back tears, at the hearing. "I'm here today to take responsibility for my conduct."
Earlier on Friday, the Federal Bureau of Investigation arrested Peter Madoff at his lawyer's office in Manhattan, according to a spokesman for the agency. At the federal court, he was unaccompanied by family members. No victims in the Madoff scheme spoke at the hearing.
As part of his guilty plea, Peter Madoff has agreed to a 10-year prison term. He has also agreed to forfeit $143 billion, a penalty that is based on the size of the fraud rather than his ability to pay. The sum is an indication that the government will seize all of his money.
There had been some speculation that Peter Madoff's deal with the government included a promise by prosecutors to not bring any charges against his daughter, Shana Madoff Swanson, who also served as a lawyer and compliance officer at the firm. But his plea agreement does not protect anyone else from potential criminal charges, according to people briefed on the matter.
Bernard Madoff has served three years of a 150-year prison term at a federal prison in North Carolina after confessing to running the Ponzi scheme.
Article source: http://dealbook.nytimes.com/2012/06/29/brother-of-bernard-madoff-arrested/?partner=rss&emc=rss