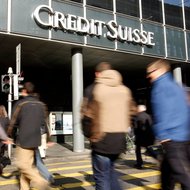 Arnd Wiegmann/ReutersThe Swiss firm Credit Suisse had its credit score cut three notches.
6:48 a.m. | Updated
LONDON — Shares in many of Europe's banks rebounded in late morning trading on Friday after initially trading lower, as investors reacted to a new round of credit downgrades for the world's largest financial institutions.
The volatility in trading activity followed the decision late Thursday by the credit agency Moody's Investors Service to cut the credit scores of major banks to new lows, reflecting new risks the industry has encountered since the financial crisis began.
Despite the widespread downgrades, analysts said the markets had already reacted to much of the pressures that have hit banks' trading operations and affected their balance sheets.
The Euro Stoxx bank index, which contains the Continent's largest financial institutions, has fallen 46 percent in the last 12 months.
This was reflected in how investors reacted to European bank stocks on Friday.
The Swiss firm Credit Suisse, which was warned last week by the country's central bank to increase its capital reserves, faced a three-notch downgrade, the only bank to have such a pronounced reduction in its credit rating.
Credit Suisse's share price, which fell as much as 1.9 percent in early morning trading in Zurich, rebounded to trade down less than 1 percent by early afternoon. The Swiss firm said it remained one of the best rated banks by Moody's Investors Service in its peer group.
The credit rating of UBS was cut by two notches, which was slightly less than many analysts had been expecting. The Swiss financial firm's shares, which dropped by 1.1 percent in early trading, also came back to trade around 0.4 percent higher on early Friday afternoon.
Moody's said the wholesale downgrades across the banking industry reflected firms' exposure to global financial markets, which have come under pressure from the European debt crisis and a broader slowdown in the global economy.
''All of the banks affected by today's actions have significant exposure to the volatility and risk of outsized losses inherent to capital markets activities,'' Moody's global banking managing director, Greg Bauer, said in a statement.
Several European banks with exposure to capital markets, including Barclays of London, Deutsche Bank of Germany and BNP Paribas of France, all had their credit ratings cut by two notches. Shares of the three firms, which all fell approximately 1 percent early morning trading, all traded up around 1 percent by late morning.
The British bank HSBC, which has major operations in the fast-growing emerging markets in Asia, fared better than many of its European competitors after Moody's cut its credit rating by only one notch. The bank's stock rose less than 1 percent in morning trading in London.
Article source: http://dealbook.nytimes.com/2012/06/22/shares-in-european-banks-fall-on-ratings-downgrade/?partner=rss&emc=rss