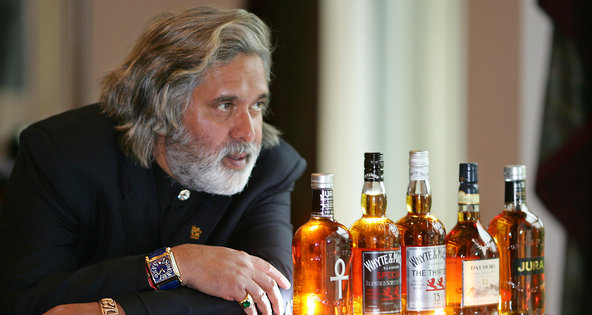 Carl De Souza/Agence France-Presse — Getty ImagesThe Indian businessman Vijay Mallya is the largest shareholder in the company, United Spirits.
NEW DELHI – Diageo, the world's largest spirits maker, said Friday that it would buy a controlling stake in India's biggest liquor company for $2 billion, a move that gives it a bigger foothold in this fast-growing market.
Acquiring the Indian company, United Spirits, will make it possible for  Diageo, which is based in London, to meet its goal of getting half of its revenue from emerging markets years ahead of its 2015 target. About 40 percent of sales come from such markets now. United Spirits, which is based in Bangalore, had revenue of 182 billion rupees  ($3.3 billion) in the 12 months ending in March, which is about 20 percent of Diageo's sales for the 12 months that ended in June.
Analysts said the deal would give Diageo access to the most extensive liquor operation in India at a time when its citizens are increasingly consuming more alcohol. Many consumers are also choosing higher-priced spirits rather than beer and traditional Indian alcohol made from coconuts and sugar cane. Diageo's Johnnie Walker whiskey has long been one of the preferred brands of middle-class and wealthy Indians.
"The Indian liquor market is growing at the fastest pace globally in the liquor segment," said A.K. Prabhakar, a senior vice president for equity research at AnandRathi Financial Services in Mumbai. "A foreign investor in United Spirits will add brand and variety. For the long-term investor it is a great buy."
For United Spirits' biggest shareholder, the flamboyant millionaire Vijay Mallya, the deal provides a deep-pocketed partner who can invest in the business, which has run up a large debt in recent years, and also provide him with much-needed cash that he can use to repay the other loans that he and his holding company have amassed in recent years to pay for various acquisitions and to start an ill-fated airline.
The acquisition will be structured in two stages: Diageo will first acquire a 27.4 percent stake in United Spirits in two transactions and later make an open offer to all public shareholders for another 26 percent as required by Indian securities regulations. The agreement comes after several weeks of negotiations and four years after the companies last discussed a deal.
In the first stage of the deal, Diageo will buy shares totaling 19.3 percent of United Spirits from holding companies and trusts owned by Mr. Mallya, his family and his senior management. The remaining shares will come in the form of new stock issued by United Spirits. The companies said Mr. Mallya would remain chairman of United Spirits and his trusts and holding companies would retain nearly 15 percent of the company's shares.
It was unclear on Friday exactly what the deal would mean for Mr. Mallya's aviation business, Kingfisher Airlines, which suspended operations last month after protests by employees who had not been paid in months. That dispute was recently settled, but the airline still has to convince regulators and banks that it is viable before it can fly again. Kapil Kaul, an aviation consultant, estimates that Mr. Mallya and other investors must pump more than $1 billion into Kingfisher to revive it.
Mr. Mallya has said he would not sell the "family silver" to keep the airline afloat, but he has also said he plans to present a "rehabilitation" plan to Indian regulators and banks. Kingfisher, which has never made money, has debts totaling about $2.5 billion. In addition to the airline and United Spirits, Mr. Mallya also controls India's largest beer brewer, a fertilizer company, a cricket team and a Formula One racing team.
On Friday, in a conference call with reporters, Mr. Mallya refused to say whether he would use proceeds from the sale of United Spirits to revive Kingfisher.
"We have multiple businesses and each business operates independently," he said. "There is no cross-contamination. There has never been, there never will be."
In United Spirits, Diageo will get several popular Indian liquor brands like McDowell's, Bagpiper, Royal Challenge and Antiquity, most of them whiskeys. India is the world's largest market for that spirit but most of it is made from molasses, not grain.
In 2007, United Spirits acquired Whyte and Mackay, a Scottish distiller that makes brands like Dalmore and Isle of Jura for nearly 600 million pounds, or $960 million at current exchange rates. Analysts said Diageo might be forced to sell Whyte and Mackay to win approval for the deal from European competition regulators.
Analysts said the United Spirits deal was an acknowledgement that Diageo made a big mistake by selling an Indian whiskey business, Gilbey's Green Label, during the recession in 2002 to focus on its international brands. Its chief competitor, Pernod Ricard, did not leave India and went on to reap big gains to become the largest international spirits company in the country, said Jeremy Cunnington, an analyst at Euromonitor International in London.
"It was a strategic mistake that put them in this place," he said, but added that Diageo had been smart to wait to buy United Spirits until Mr. Mallya was in a relatively weak negotiating position. "They played a good tactical game over the past three years," Mr. Cunnington said. "They saw U.S.L.'s weak finances and played a waiting game."
Ivan M. Menezes, the chief operating officer of Diageo, declined to discuss the company's 2002 exit from India during the conference call but said that the country would now become one of its largest markets.
"This will become Diageo's No. 2 market after the United States," he said. "This has the potential, in the long term, to become our largest market."
Heather Timmons contributed reporting. Neha Thirani  contributed reporting from Mumbai.
A version of this article appeared in print on 11/10/2012, on page B3 of the NewYork edition with the headline: Diageo Buys Control of India's Biggest Liquor Company.
Article source: http://dealbook.nytimes.com/2012/11/09/diageo-buys-controlling-stake-in-indias-biggest-liquor-company/?partner=rss&emc=rss