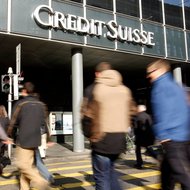 Arnd Wiegmann/ReutersA branch of Credit Suisse in Basel, Switzerland.
LONDON – The Swiss bank Credit Suisse is planning to further reduce the size of its European investment banking department, according to a person with direct knowledge of the matter.
Credit Suisse, which announced plans last year to eliminate 3,500 jobs as part of an overhaul of its worldwide operations, may reduce the work force in its European investment banking division by as much as 30 percent, said the person, who spoke on the condition of anonymity because he was not authorized to speak publicly.
The new job reductions in that unit are part of the bank's previously announced restructuring plans.
The cutbacks are expected to be focused in the bank's advisory and capital markets businesses in Europe. Last month, the bank said it would let go 126 employees in the New York area by the beginning of August.
A spokesman for Credit Suisse declined to comment.
The new layoffs in Europe could take place over the next 12 months. In a progress report on its restructuring efforts, Credit Suisse said previously that it had eliminated 2,000 jobs by the end of March.
The prospect of layoffs in the bank's European investment banking department comes soon after Switzerland's central bank said Credit Suisse needed to increase its capital this year to prepare for a potential worsening of the European debt crisis
The Swiss National Bank singled out Credit Suisse in its annual financial stability report as a bank that needed to "significantly expand its loss-absorbing capital during the current year."
In response, Credit Suisse said it was "comfortable" with its progress toward increasing capital reserves.
With a new round of layoffs in Europe, Credit Suisse is reacting to a broad reduction in deal activity and initial public offerings on the Continent prompted by market volatility and the debt crisis.
The total combined value of mergers and acquisitions in Europe has fallen 20 percent this year, to $382 billion, from the same period in 2011, according to the data provider Dealogic.
The total value of deals in Europe's equity capital markets, including I.P.O.'s and rights issues, also fell 50 percent, to $60.4 billion, in the first half of the year.
Credit Suisse is not the only bank looking to cut back. A Swiss rival, UBS, has said it plans to cut 3,500 jobs, with about half of the layoffs expected within its investment banking division.
The French banks Société Générale and Crédit Agricole have also announced layoffs in response to a slowdown in the European economy.
Article source: http://dealbook.nytimes.com/2012/06/26/credit-suisse-said-to-plan-new-round-of-layoffs-in-europe/?partner=rss&emc=rss