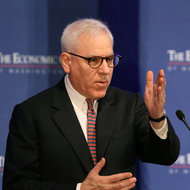 Chris Kleponis/Bloomberg NewsDavid M. Rubenstein, co-founder of the Carlyle Group, one of the world's largest private equity firms.
While summer has traditionally been a slow time for deal making, the Carlyle Group has been on a buying spree in recent weeks.
The buyout firm said on Wednesday that it would buy Getty Images, the big provider of high-quality images and video, from another private equity shop for $3.3 billion. It was the second major buyout that Carlyle announced in the last week, after the takeover of the TCW Group, a Los Angeles-based investment manager, from Société Générale of France.
The two leveraged buyouts are only the latest in a string of recent deals by Carlyle. That list includes taking control of Sunoco's huge Philadelphia refinery and buying a stake in Genesee Wyoming, a railroad operator that is buying a smaller rival.
The firm has struck 19 deals worth nearly $14.1 billion over the last 12 months and currently tops the Thomson Reuters rankings of acquisitions by private equity firms.
By contrast, Kohlberg Kravis Roberts, another major buyout firm, announced nine deals worth $9.2 billion during the same period, and Bain Capital reported eight deals valued at $4.7 billion. The Blackstone Group disclosed nine deals worth $1.2 billion.
While coincidental — many of the deals have been in the works for months — Carlyle's activity this summer belies a generally slow time for private equity firms. Deal making in general has been hampered by economic uncertainty, which also limited growth in the value of buyout firms' holdings.
Carlyle has not been immune to the industrywide malaise. Last week, the firm announced that it had a $57 million loss in its second quarter, burdened by slow growth in its investments.
Yet even then, executives stressed that they saw opportunities. The firm pointed to $3 billion in realized gains during the quarter, as well as nearly $4 billion in new capital.
William E. Conway, a co-chief executive of Carlyle, has said that a volatile market could unearth interesting bargains for his firm. That has been a common refrain among many buyout executives, who argue that their vast stores of uninvested capital and a potential rise in undervalued companies could only help propel deal making.
"Great investments can be made in a bad economy and lousy investments can be made in a vibrant economy," Mr. Conway said last week on the firm's earnings call with analysts. "Notwithstanding weaker global economic conditions, we see good investing opportunities across our platform."
So far, it appears that Carlyle is carrying through on that promise.
Over all, Carlyle has committed about $5.5 billion in equity capital from its various investment funds for new deals this year.
Executives at the firm said that such a pace is not unusual. Carlyle is one of the largest in the industry, with more than 99 investment funds and 1,300 professionals around the world.
The six deals that the firm announced since July came from five different vehicles. The Getty deal was struck from one of its main United States buyout funds, Carlyle Partners V, while the Sunoco transaction was made from the firm's Equity Opportunity and Energy Mezzanine Opportunities funds.
"There's been no big shift in our mind-set that now is a good time to deploy capital," Peter J. Clare, a co-head of Carlyle's United States buyouts group, said in a telephone interview. "It's more a reflection of the depth of our industry teams and the capital of our funds."
The Getty deal arose out of an auction that the image provider's current owner, the buyout firm Hellman Friedman, began running several months ago.
Over all, executives expect the Carlyle's main American buyout fund, which has $13.7 billion under management, to reach a general investment target of about 20 percent of its available capital.
"We're right on track for what I'd call an average year in terms of equity investment from the U.S. buyout fund," Mr. Clare said.
With debt financing relatively cheap at the moment and with more companies willing to sell themselves, Carlyle executives said that the firm has simply benefited from more opportunities, without lowering the benchmarks for its investments.
"We're holding to the same standards," Mr. Clare said. "But more companies coming to the market is putting more opportunities in front of us."
Article source: http://dealbook.nytimes.com/2012/08/15/carlyle-in-3-3-billion-deal-for-getty-images/?partner=rss&emc=rss