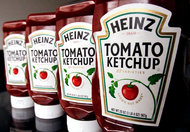 Don Ryan/Associated PressHeinz will be sold to Berkshire Hathaway, the conglomerate controlled by Warren E. Buffett.
10:12 a.m. | Updated
Warren E. Buffett has found another American icon worth buying: H. J. Heinz.
Berkshire Hathaway, the giant conglomerate that Mr. Buffett runs, said on Thursday that it would buy the food giant for about $23 billion, adding Heinz ketchup to its stable of prominent brands.
Mr. Buffett is teaming up with 3G Capital Management, a Brazilian-backed investment firm that owns a majority stake in a company whose business is complementary to Heinz's: Burger King.
Related Links
Under the terms of the deal, Berkshire and 3G will pay $72.50 a share, about 20 percent above Heinz's closing price on Wednesday. Including debt, the transaction is valued at $28 billion.
"This is my kind of deal and my kind of partner," Mr. Buffett told CNBC on Thursday. "Heinz is our kind of company with fantastic brands."
In many ways, Heinz fits Mr. Buffett's deal criteria almost to a T. It has broad brand recognition – besides ketchup, it owns Ore-Ida and Lea Perrins Worcestershire sauce – and has performed well. Over the last 12 months, its stock has risen nearly 17 percent.
Mr. Buffett told CNBC that he had a file on Heinz dating back to 1980. But the genesis of Thursday's deal actually lies with 3G, an investment firm backed by several wealthy Brazilian families, according to a person with direct knowledge of the matter.
One of the firm's principal backers, Jorge Paulo Lemann, brought the idea of buying Heinz to Berkshire about two months ago, this person said. Mr. Buffett agreed, and the two sides approached Heinz's chief executive, William R. Johnson, about buying the company.
"We look forward to partnering with Berkshire Hathaway and 3G Capital, both greatly respected investors, in what will be an exciting new chapter in the history of Heinz," Mr. Johnson said in a statement.
Berkshire and 3G will each contribute about $4 billion in cash to pay for the deal, with Berkshire also paying $8 billion for preferred shares. The rest of the cost will be covered by debt financing raised by JPMorgan Chase and Wells Fargo.
Mr. Buffett told CNBC that 3G would be the primary supervisor of Heinz's operations, saying, "Heinz will be 3G's baby."
The food company's headquarters will remain in Pittsburgh, Heinz's home for over 120 years.
Heinz's stock was up nearly 20 percent in morning trading, at $72.51, closely mirroring the offered price. Berkshire's class A stock was also up slightly, rising 0.64 percent to $148,691 a share.
Heinz was advised by Centerview Partners, Bank of America Merrill Lynch and the law firm Davis Polk Wardwell. A transaction committee of the company's board was advised by Moelis Company and Wachtell, Lipton, Rosen Katz.
Berkshire's and 3G's lead adviser was Lazard, with JPMorgan and Wells Fargo providing additional advice. Kirkland Ellis provided legal advice to 3G, while Berkshire relied on its usual law firm, Munger, Tolles Olson.
Article source: http://dealbook.nytimes.com/2013/02/14/berkshire-and-3g-capital-to-buy-heinz-for-23-billion/?partner=rss&emc=rss