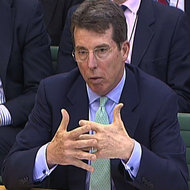 Pool photograph by Agence France-PresseRobert E. Diamond Jr., Barclays' former chief, testified to lawmakers last week about the bank's interest-rate manipulation scandal.
LONDON — Robert E. Diamond Jr., the former chief of Barclays who resigned because of a scandal involving interest rate manipulation, defended his testimony to a British parliamentary committee as lawmakers called more senior officials to appear.
Late Tuesday, Mr. Diamond responded to criticism from British politicians that he had not been completely forthcoming last week at a hearing on the Barclays case.
"Any such suggestion would be totally unfair and unfounded," Mr. Diamond wrote in a letter to Andrew Tyrie, the committee's chairman. "The comments made at today's hearing have had a terribly unfair impact upon my reputation."
Mr. Diamond said that he would be willing to discuss the issue with lawmakers. A number of committee members have called for him to give more testimony.
However, there may not be time. The committee has one week before it recesses for the summer, and other officials have already been slated to give testimony on Monday.
That list includes top executives from the Financial Services Authority, including the regulator's chairman, Adair Turner; Andrew Bailey, the head of the prudential business unit; and Tracey McDermott, the acting head of the enforcement and financial crime division. Jerry del Missier, a senior Barclays official who resigned last week, is also set to appear.
The committee is investigating the manipulation of the London interbank offered rate, or Libor. The rate underpins trillions of dollars of financial products, including mortgages, student loans and complex derivatives.
In late June, Barclays agreed to pay $450 million to British and American authorities to settle claims that it submitted bogus rates to deflect concerns about its health and improve profits.
Politicians in Washington and London are questioning whether officials did enough to avoid the scandal.
The New York Fed said on Tuesday that it had received "occasional anecdotal reports from Barclays of problems with Libor" as far back as late 2007. Barclays has said that it had informed American and British regulators about concerns with the rate, but officials did not address the problems.
On Tuesday, members of the parliamentary committee focused their anger on Marcus Agius, Barclays' chairman, asking him about the actions of Mr. Diamond and the culture inside the bank.
Questions centered on two letters to Barclays from British regulators who raised questions about Mr. Diamond's management style. Some concerns dated to his appointment to the bank's top spot in late 2010.
During his testimony last week, Mr. Diamond said the bank had maintained a good relationship with the Financial Services Authority, adding that he did not recall that the regulator had questioned the bank's activities or its internal culture.
On Tuesday, members of the committee asked Mr. Agius about Mr. Diamond's testimony.
"Would you say that Mr. Diamond lied to this committee?" David Ruffley, a member of Parliament, asked Mr. Agius.
"I can't comment on Mr. Diamond's testimony," Mr. Agius said.
Article source: http://dealbook.nytimes.com/2012/07/11/more-officials-called-to-testify-on-libor-scandal/?partner=rss&emc=rss