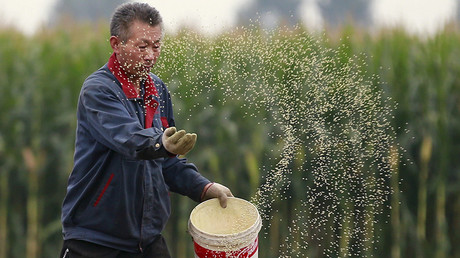 According to ChemChina, the first payment settlement is scheduled for May 18, when it will take over control of Syngenta.
The companies said in a joint statement that based on preliminary numbers, around 80.7 percent of Syngenta shares have been tendered, above the minimum threshold of 67 percent support. The agreed offer is for $465 per share.
Syngenta will remain a Swiss-based global company while under Chinese ownership, according to CEO Erik Fyrwald.
"It is very important to understand that this is a financial transaction," he told CNBC, adding "I am very confident we are going to have a strong balance sheet as agreed."
Fyrwald also said the investment-grade rating would let Syngenta pursue market share growth, investment, capital spending, and acquisitions.
The deal, announced in February last year, was determined by China's desire to improve domestic agricultural output.
Experts describe the merger as a chance for China to acquire valuable seed technology to feed its 1.3 billion population, which is consuming more meat and dairy products as the middle class expands.
The country relies heavily on food imports. It's a major soybean importer and the seventh largest importer of corn.
The deal which has been vehemently opposed by domestic anti-GMO campaigners as it will create the world's biggest farm-business oligopoly, concentrating agricultural power in the hands of three countries – the US, Germany, and China.
Syngenta has repeatedly been sued by farmers and grain exporters for selling genetically-modified corn. They blamed the agrochemical giant for losses of tens of millions of dollars.
Article source: https://www.rt.com/business/387219-chemchina-syngenta-takeover-completed/?utm_source=rss&utm_medium=rss&utm_campaign=RSS