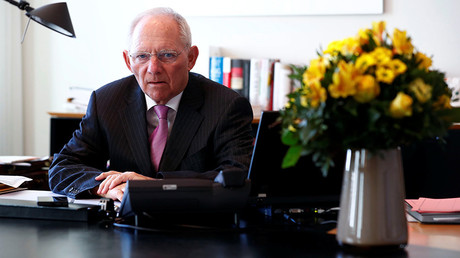 The minister was asked on CNBC about stories in the British media, where Germany is accused of caring only about its own profit and ignores its neighbors.
"There are some writers even in the UK which write bullsh**t, with all due respect," responded Schaeuble.
"Did you say bulls**t?" asked the anchor.
"Yes. I don't like it," said Schaeuble.
They were talking about a piece by Matthew Lynn in The Telegraph which describes Germany as the "biggest threat to the stability of the global economy right now," more than the looming Brexit or US President Donald Trump's "bone-headed protectionism."
"Germany's trade surplus. Hitting record highs with every month that passes, it now amounts to a massive nine percent of GDP. In effect, Germany has become an economic rogue state, hollowing out the industry of its neighbors, creating vast flows of footloose capital and undermining the stability of the financial system. It is time the rest of the world stood up to it and demanded the Germans bring it under control," the journalist wrote.
Earlier this year, Trump also criticized Berlin about its €253 billion trade surplus, warning of a possible increase in tariffs on goods imported from Germany.
On Monday, Peter Navarro, who heads the White House's new National Trade Council, asked for bilateral talks to reduce the US trade deficit with Germany.
"Trade policy is the responsibility of the European Union," the German Economy Ministry responded.
The German finance minister defended his country's vast trade surplus during his visit to Washington. Schaeuble has rejected US accusations of his country's unfair trade policies and urged President Trump to remain engaged in trade liberalization.
Article source: https://www.rt.com/business/385544-germany-finance-minister-rogue-economy/?utm_source=rss&utm_medium=rss&utm_campaign=RSS