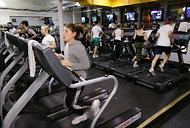 Matthew Peyton for The New York TimesExercising at a New York Sports Club.
Many members who last year joined fitness clubs owned by Town Sports International saw a $29 fee on their bill this month. The fee represents an annual rate lock payment, assessed in lieu of an increase in the members' monthly dues, the company says.
Town Sports, which owns more than 150 clubs in the Northeast (including New York Sports Club locations in the New York area, as well as clubs in Washington, Boston and Philadelphia), began last May to require new members to agree to an annual $29 fee. The charge is assessed each January and guarantees the member that their monthly dues won't increase as long as they're a member.
Previously, according to the company, members signed contracts giving the club the right to increase monthly dues once a year.
The fee isn't optional. So isn't it, in effect, a guaranteed rate increase that is just collected in a lump sum?
Prior annual dues increases translated into as much as $4 a month, the company says. But with the new, one-time fee at $29, members are saving money under the arrangement, Bob Giardina, chief executive of Town Sports International said. The funds are invested into equipment at the sports clubs, he said.
The option seems to have been well-received, he said. The clubs have signed up 100,000 members since they began including the fee in the contract that members sign. (The fee only applies to members who have signed up since April 2011; no decision has been made, the company said, about whether to offer the new structure to members who had joined previously. )
What do you think of such a fee? Is it a good deal?
Article source: http://feeds.nytimes.com/click.phdo?i=b620389b975ff1809a353e65e145460f