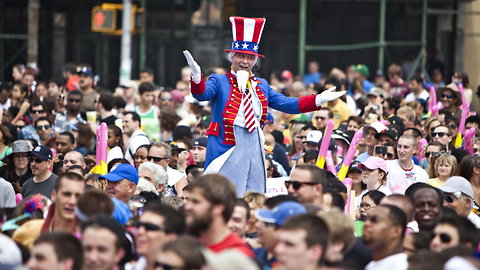 Getty ImagesUncle Sam pays a visit to Brooklyn, N.Y.
Mitt Romney stirred up a hornet's nest with his comments about the 47 percent of Americans who he thinks are dependent on the government.
It turns out, according to 2008 data from the Cornell Survey Research Institute reported Monday in a Times opinion piece, that 96 percent of Americans have taken part in government benefit programs in one form or another.
Listed below are 21 programs referenced by the researchers. Numbers 1 through 13 are "direct," meaning that the aid comes directly from the government; the remainder are considered "submerged," in that they come indirectly, through government tax policies. (For instance, the money you put in your workplace 401(k) plan grows tax-deferred).
Head Start
Social Security Disability
Social Security Retirement and Survivors Benefits
Supplemental Security Income (SSI)
Medicaid
Medicare
Welfare (Temporary Assistance for Needy Families, or T.A.N.F.)
G.I. Bill
Veterans' benefits
Pell Grants
Unemployment Insurance
Food Stamps
Government Subsidized Housing
Home Mortgage Interest Deduction
Hope and Lifetime Learning Tax Credits
Child and Dependent Care Tax Credit
529 accounts (qualified tuition programs) or Coverdell education savings account (Education I.R.A.'s)
Earned-income tax credit
Employer subsidized health insurance
Employer subsidized retirement benefits
Federal student loans
In an e-mail, Suzanne Mettler, a professor of government at Cornell, explained a bit more about the two forms of employer benefits (Numbers 19 and 20), saying they "are even more submerged than the other policies in that group, because unlike with the others, people take no actual steps to claim the government benefit. As long as one is acquiring those employer-provided benefits, one simply gets the tax benefit — if the employer put the same money in people's paychecks, they would have to owe taxes on it."
I personally have benefited from student loans, the home mortgage deduction and employer health and retirement benefits, and my children have 529 education savings plans. My dad went to college (proudly) on the G.I. Bill. My upbringing was middle class.
Take a look at the list and let us know: How many of these have you received or relied on? Are you poor, working class, middle class, upper middle class, or part of the 1 percent?
Article source: http://bucks.blogs.nytimes.com/2012/09/25/how-many-government-programs-have-you-benefited-from/?partner=rss&emc=rss