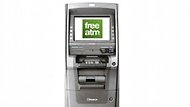 Courtesy Free ATM Inc.
A start-up that provides fee-free A.T.M.'s supported by advertising is expanding in the new Barclays Center in Brooklyn.
Bucks first wrote about the 20-something Clinton Townsend and his company, now called Free ATM Inc., last fall after he installed a machine at Brooklyn's Knitting Factory nightclub. His approach is to put A.T.M.'s in underserved locations and offer cash without charging a fee. The catch is that patrons watch and listen to advertising displayed on the screen while their cash is being dispensed.
Now, Mr. Townsend said he has signed a five-year deal to put seven of his cash-dispensing machines inside the Barclays Center, the soon-to-open 19,000-seat arena that will be home to the Nets basketball team and serve as a venue for big-name music acts. (The rapper Jay-Z is a part-owner of the arena). The opportunity was available, he said, because Barclays doesn't have a big retail banking presence in the United States. So he won't be competing with the bank's own A.T.M.'s.
Mr. Townsend says he sees a big opportunity for his machines in the arena. One of the machines will be accessible to the general public whether they're attending an event or not. The rest will be available to ticket-carrying patrons. "This is a huge platform," he said.
Mr. Townsend said the machines will feature ads from the cellular provider Metro PCS and the online review site Yelp.com (The machines themselves don't charge any access fees, but patrons' own bank may charge them a fee for using an out-of-network A.T.M.)
The question when Mr. Townsend introduced his machines was whether most customers would tolerate ads in exchange for an absence of fees. He said that up to 20 percent of the A.T.M. users at the Knitting Factory location are repeat users, suggesting that they don't mind the ads. "I think we've proven that," he said. "This is really a consumer win."
Let us know what you think about Free ATM's machines.
Article source: http://bucks.blogs.nytimes.com/2012/09/19/free-a-t-m-s-at-the-new-barclays-center/?partner=rss&emc=rss