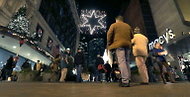 Associated PressHoliday shoppers in Boston.
The holiday season is one time when my credit card gets a heavy workout, and this year is no different. But I'm apparently an outlier, according to a survey of holiday consumer spending.
Roughly three-fourths of Americans are buying gifts with cash or a debit card this year, according to a survey from ING Direct. And 63 percent are spending the same on holiday gifts as they did last year.
The finding dovetails with reports finding that consumers are better managing their credit card debt.
I consider myself a responsible credit card user — I always pay my monthly balance in full. But it's true that paying with cash or a debit card can help you stick to a budget and force you to consider whether you really want to spend money on a given item. Perhaps a little cash-only experiment should be added to my growing list of New Year's resolutions.
The fourth-annual national survey of 1,000 adults was conducted by both landline and mobile phones by ORC International on November 23-25. The margin of sampling error is plus or minus three percentage points. (Online bank ING Direct, which is now a division of Capital One, will be re-branded next year as Capital One 360.)
Have you been relying more on cash or debit card spending for holiday shopping this year? Has it helped you keep the lid on spending?
Article source: http://bucks.blogs.nytimes.com/2012/12/20/cash-and-debit-prevail-this-holiday-season/?partner=rss&emc=rss