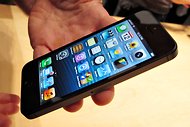 Yonhap/European Pressphoto Agency
Did you forget to set the alarm on your iPhone to wake you up with a gentle marimba ringtone at 3 a.m. Eastern time Friday?
If so, your chances of getting the iPhone 5 early got a little dimmer.
In the wee hours of Friday, Apple started letting people order the iPhone 5 from its online store. It took only an hour for Apple's site to change its shipping estimates for the product to two weeks. By Friday evening, the Apple store had changed the shipping estimate to two to three weeks. People who managed to submit their orders early were told they would receive their phones on Sept. 21, the day the iPhone 5 is officially available.
That change in delivery times is a sign that Apple's online store burned through its initial inventory quickly, forcing customers who ordered later to wait.
"Pre-orders for iPhone 5 have been incredible," said Natalie Kerris, an Apple spokeswoman. "We've been completely blown away by the customer response."
Supplies at Apple's wireless carrier partners in the United States seemed to hold up a bit longer, but eventually they, too, began giving customers longer shipping estimates. By Friday evening, ATT's online store gave a shipping estimate of two to three weeks, while Verizon promised to deliver the iPhone 5 by Sept. 28, two weeks from Friday. Sprint's Web site was promising Sept. 21 delivery of the 32-gigabyte and 64-gigabyte iPhone 5 models, though it said the 16-gigabyte phone will not be delivered for up to two weeks.
For people who want the iPhone 5 on its official first day of sale, there's still the old-fashioned option of queuing up in front of bricks-and-mortar stores. Apple and its wireless partners will start selling the iPhone 5 on Sept. 21 starting at 8 a.m. local time for as long as their supplies last.
Article source: http://bits.blogs.nytimes.com/2012/09/14/signs-of-high-demand-for-iphone-5/?partner=rss&emc=rss