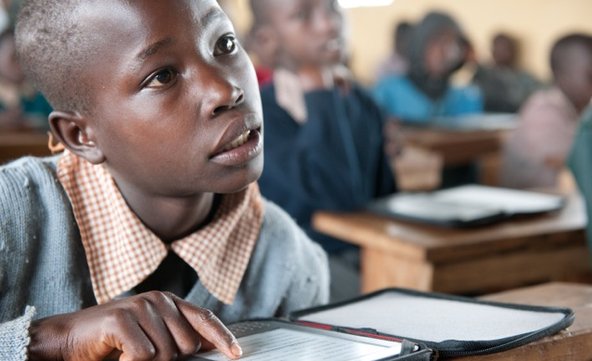 Courtesy of Jon McCormack and Worldreader
Years ago, David Risher, a former Amazon executive, came up with the unlikely plan of distributing Kindles to children in the developing world to help increase literacy.
Why take a fragile piece of technology that requires charging and Internet connections to places where infrastructure can be sparse, especially when there's an inexpensive, low-tech alternative in print books?
But Mr. Risher has gradually found acceptance for the nonprofit he founded to take e-books to Africa, Worldreader. Now he's getting a significant boost from book publishers that could help expand its reach. Simon Schuster, HarperCollins, Egmont UK, Rosetta Books, Hardie Grant Egmont and Ripley Publishing have all agreed to donate e-books to Worldreader, allowing the nonprofit to triple the size of its digital library to more than 900 books.
About 500 of those titles are African textbooks and storybooks, while another 425 originate from publishers in the United States, Britain and elsewhere. All of them are free for the roughly 1,000 children in Ghana and Kenya to whom Worldreader has handed out Kindles. Worldreader says it has distributed more than 200,000 e-books into the hands of children in its program.
In a recent interview, Mr. Risher said he came up with the concept for Worldreader while visiting an orphanage for girls in Ecuador, where the library had fallen into disuse because of a lack of printed books. The few titles that remained in the library were largely the castoffs of backpackers that the children had long since read. "This was one of those moments where I said, 'This is crazy,'" Mr. Risher said.
Mr. Risher — who retired from Amazon in 2002 and was honored with a permanent tribute on Amazon's site from the company's chief executive, Jeff Bezos — called up his old pals at Amazon and eventually persuaded them to donate some Kindles. Worldreader also purchases e-readers itself using donations.
Mr. Risher said keeping the devices charged has not been a serious problem. The Kindles can run for nearly a month on a charge. Many of the students charge their Kindles at school, where power is often available intermittently in the villages where Worldreader has distributed devices. Wireless Internet access is also becoming more common in those areas, Mr. Risher said.
There have been problems with the technology. Mr. Risher said about 40 percent of the first 400 or so e-readers that Worldreader distributed broke, mostly because the students didn't know how to take care of them properly. To keep the devices safe during class, students often placed their Kindles beneath their legs, which caused screens to crack.
Mr. Risher said the breakage rate for Kindles has dropped sharply since Worldreader stepped up its efforts to educate students about how to care for the devices. Better Kindle cases helped as well.
Mr. Risher said Worldreader expects to distribute 3,500 e-readers by the end of the year, with a goal of reaching 10,000 by the end of 2013. Worldreader is expanding to Rwanda next.
Mary Pope Osborne, author of the best-selling "Magic Tree House" series of children's books, said one of her first questions for Worldreader after learning about the program was how well its e-readers held up. "I have trouble keeping my own devices alive," Ms. Osborne said.
But Ms. Osborne said she warmed to the idea as an efficient way to put books quickly into the hands of children. Her publisher, Random House, donated the entire "Magic Tree House" series to the Worldreader program. "I think what they're doing is beyond words, really," she said.
Carolyn Reidy, president and chief executive of Simon Schuster, said donating printed books to Africa was easy, but getting them to their destinations was expensive. Once Worldreader deals with the problem of getting e-readers into the hands of children, it is painless getting more books to them, she said.
"Once they're there, there's no hurdle," Ms. Reidy said. "That one reader can open a whole world."
Article source: http://bits.blogs.nytimes.com/2012/09/06/publishers-back-africa-literacy-effort-with-e-books/?partner=rss&emc=rss