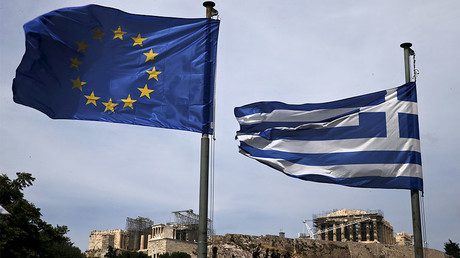 "The negotiations for a technical deal were concluded on all issues," Greek Finance Minister Euclid Tsakalotos told reporters.
"There was white smoke," he said, using a term associated with papal elections.
The minister added he was "certain" that the agreement would enable Greece to secure debt relief measures from its creditors, which he has said is vital to spearhead recovery in the country's struggling economy.
As part of the reforms, Athens has promised to cut pensions in 2019 and reduce the tax-free threshold in 2020 to produce savings worth 2 percent of GDP.
Athens also agreed to sell coal-fired plants and coal mines equal to about 40 percent of its dominant power utility Public Power Corp's capacity.
The measures are to be approved by parliament by mid-May. Greece's largest opposition party, the conservative New Democracy, said on Tuesday it would not support the deal when it comes up for discussion.
"We will not vote in the new austerity measures that cut pensions and tax Greece more," spokesman Vassilis Kikilias told Reuters.
Over 10,000 people demonstrated against the cuts on Monday. A general strike is scheduled for May 17.
Greece needs to legislate the new measures before a eurozone finance ministers' meeting on May 22, when they can likely approve the disbursement of loans. The country should repay €7.5 billion (about US$8.2 billion) in debt maturing in July.
According to documents seen by Reuters, the International Monetary Fund (IMF) believes Greece could reach a primary surplus of 2.2 percent in 2018 and of 3.5 percent annually in 2019-2021, if it implements the new measures. The IMF suggests the primary surplus target be reduced to 1.5 percent of GDP thereafter, while eurozone lenders say Greece must sustain a 3.5 percent GDP primary surplus target over a longer period.
Greece and creditors agreed a third, €86 billion bailout deal two years ago. So far, the country has received about €32 billion in loans in exchange for austerity measures that included reforms on pensions, income tax, and the labor market.
Article source: https://www.rt.com/business/386823-greece-creditors-agreement-reforms/?utm_source=rss&utm_medium=rss&utm_campaign=RSS