Part of its strategy is to make this Los Angeles studio a hub for actors, musicians and social-media influencers on promotional tours, where they will film reaction shots based on terms that Giphy users often plug into search boxes. The dissemination, it is hoped, will make them "GIF-amous."
Advertisement
Continue reading the main story
"I really want it to be a stop on a press tour," said Samantha Scharff, Giphy Studios' C.E.O., offering a tour of the space. "You go to 'Kimmel.' You go to Giphy." There is a miniature golf course that winds through the office and most of the conference and meeting tables double as Ping-Pong tables, as is de rigueur at start-ups. Pillows on couches are stitched with "LMAO" and "OMG." There are a few different filming rooms, including one with a brick wall that the staff thinks of as its "New York stage."
And upstairs is a steep slide that visitors are encouraged to try. You never know where GIFs might happen. "We wanted people to come here and hang out and make content," said Ms. Scharff, whose career path has tracked the decreasing attention span of viewers (from "Saturday Night Live," to "The Colbert Report," to producing YouTube videos, to Giphy).
It is a risky strategy; part of the appeal of GIFs is that they are organically referential to collective nostalgia for previous pop-culture touchstones — not choreographed and overtly promotional. She and Mr. Zeff, however, have high hopes that they can change the form from a repurposed clip of existing content into an entertainment medium in its own right. "We want to be the MTV of the messaging generation," he said.
In the summer, Martellus Bennett, then a tight end for the Green Bay Packers, came to check out Giphy Studios and toss ideas around with Mr. Zeff. Giphy then decided to send staff members to Green Bay, Wis., to GIF-ify Mr. Bennett and teammates including Aaron Rodgers as they pantomimed popular hashtagged gestures (#thumbsup, #letsgo and #middle finger). The clips racked up 150 million views in 48 hours, according to Mr. Zeff.
This December day at Giphy Studios was an unusually busy one, with Gwen Stefani stopping by at the last minute to film holiday-themed GIFs, and three other scheduled shoots: with Mr. Santos, a band called Portugal. The Man, and the actress Amber Stevens West.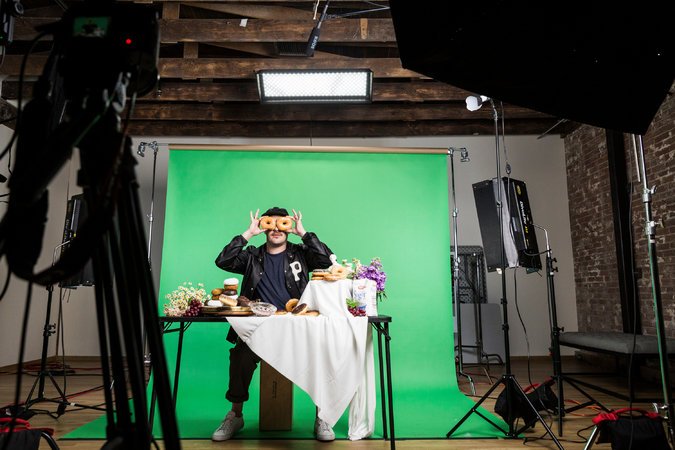 Against another green screen, Ms. West filmed tarot-card-theme GIFs, under the direction of Ms. Millar-Blanchaer and Michael Bruno, an associate producer and director at Giphy Studios. Best known for her role in the 2014 film "22 Jump Street," Ms. West stood behind a white rectangular cutout that was suspended from a rod. She wore a blue cape and then a white robe over her jeans and T-shirt. This was the first time Giphy had used a costume for a shoot.
"How about a 'You are awesome'?" Ms. Millar-Blanchaer said. Then: "Let's do a 'You Got This!'"
Advertisement
Continue reading the main story
Ms. West posed gamely and emoted as directed.
"It's kind of like an acting exercise," she said.
For nonactors, preening in front of a camera with directors calling out emotions to convey merely with facial expressions and gestures can be cringe inducing.
This was the case with Portugal. The Man, who are originally from Wasilla, Alaska, and who won a 2018 Grammy for best pop duo/group performance for "Feel It Still." They arrived at Giphy Studios toward the end of the day and sat down with the production staff to get organized.
The idea was to make GIFs connecting to "internet holidays," which tend to be popular among Giphy users — in this case National Doughnut Day, Pizza Day, Beer Day, Video Game Day/Gaming Day and Earth Day.
Mr. Bruno asked if anyone would object to these. "We have no reservations or moral compass whatsoever," one of the bandmates said. "We'll do anything." The group laughed. That was before they knew they'd be asked to juggle doughnuts and pose next to slices of pizza.
In the studio, each of the four musicians took his turn and was a good sport, hamming it up for the camera as producers shouted hashtags.
Zach Carothers, the bassist, went first, and seemed relieved when he was done posing with doughnuts placed over each finger like rings. He sat down in the back of the studio and shrugged. "Our record label is always looking for interesting ways to shovel us into all sorts of crap," he said. "I don't know if you've heard, but these GIF things are pretty popular on the interwebs."
Continue reading the main story
Article source: https://www.nytimes.com/2018/02/12/style/giphy-studios.html?partner=rss&emc=rss