The survey of almost 15,000 respondents showed that over half used less cash over the last year, with 78 percent wanting to use less cash in the next 12 month.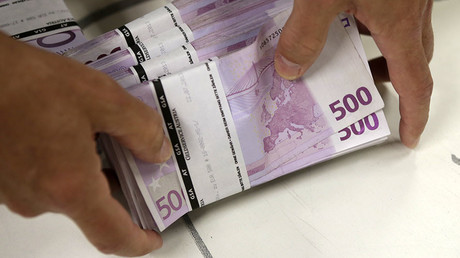 ECB decides on fate of the 'Bin Laden' €500 banknote
The study covered respondents from 13 European countries and revealed that in many places where cash is most used, people are among the keenest to get rid of it.
With the rapid development of cashless payment systems such as contactless cards and mobile-phone digital wallets as well as the expansion of digital currencies, the future of physical money has come under the spotlight. The increasing interest of central banks in new cashless schemes has promoted the trend.
"A cashless society is not only possible but could be accepted by at least part of the population in many European nations," said the researchers led by senior economist Ian Bright as quoted by Bloomberg.
The economist stressed that there's a "gulf" between those changing payment methods and those who are still sticking with cash.
According to the survey, 82 percent of respondents, who said that they did not use less cash over the previous year, also stated that they don't plan to reduce usage in the next.
Half of those surveyed were sure they would do without cash for at least a week with 29 percent thinking they could manage without hard currency indefinitely. At the same time, three-quarters of Europeans say they'll never completely give up physical money.
READ MORE: Alternative cryptocurrency ether reaches rarefied air
Notably, respondents from Britain were the least willing to go cashless.
Article source: https://www.rt.com/business/386197-europe-wants-swap-cash-digital/?utm_source=rss&utm_medium=rss&utm_campaign=RSS